Snuffles For September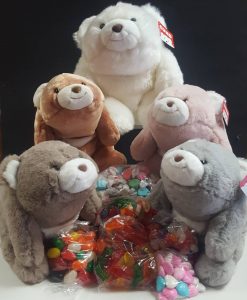 No, we are not suggesting colds or allergies should be endured during the month of September. Snuffles, in all the different colours and sizes, is the featured stuffy this month. A face designed to peek up at you while cuddling this loveable bear, you can't help but smile.
Our Snuffles pyramid is gathered around their pyramid of candy treats for this Labour Day weekend. Gummy candy? We've got all sorts of shapes and sizes. Salt water taffy? Check. Jelly beans? Choose from four different options. Confetti almonds or amorini candies? You bet. Then of course there is chocolate, fudge, nuts….
Enjoy the holiday Monday before the craziness of another school year begins. We will be closed September 3rd to enjoy the day with family and friends.