National Book Lovers Day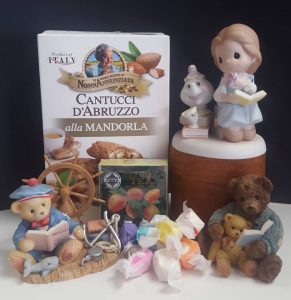 Happy National Book Lovers Day! A few of our friends are set up to enjoy their reading. Cherished Teddies Glenn is fitting in some reading with his sailing, while Baxter and Friend are settled indoors for their quiet time. Belle, Chip and Mrs. Potts have gathered together to share in some quality book time as well.
What about you? Have you chosen a favourite book to read, or perhaps picked up something new? And what about snacks? Do you have a preferred treat to enjoy? Perhaps a cup of tea to sip on, like our Peach Apricot Black tea? Or in the heat do you switch it up with an iced tea instead? Cookies like the Falcone Almond Biscotti are an added bonus along with a nice drink and a book. Or instead do you opt for some candy treats to enjoy, such as salt water taffy? Of course you won't go wrong with chocolate, fudge or nuts either.
Whatever you settle in to read today, enjoy!