Description
For convenience many people still prefer yo use a tea bag over loose leaf options. Less mess, less fuss, a quick and easy way to get a quick cuppa ready to enjoy. Available in canisters and reusable crates we have a wide range of flavours and varieties to choose from.
Specialty Tea in Softwood Chests
$11.99 Each
Reusable soft wood crates containing 25 tea bags make a lovely gift. Choose from many intriguing flavours while admiring the artwork on the collectible box. From classic teas like Earl Grey to something a bit more adventurous like chocolate mint there is a flavour for any tea lover.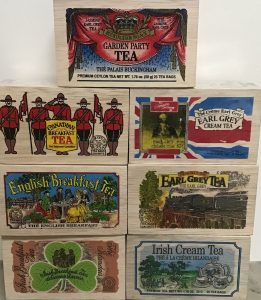 Classic Black Teas
Buckingham Place Garden Party, Canadian Breakfast, Cream Earl Grey, Earl Grey, English Breakfast, Irish Breakfast, Irish Cream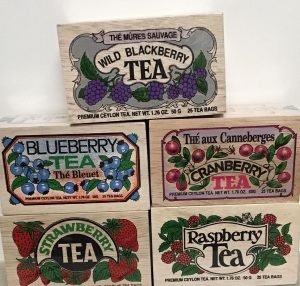 Berry Flavoured Black Teas
Blackberry, Blueberry, Cranberry, Raspberry, Strawberry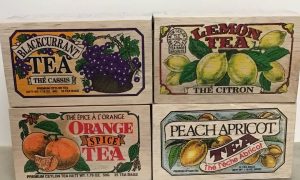 Fruit Flavoured Black Teas
Blackcurrant, Lemon, Orange Spice, Peach Apricot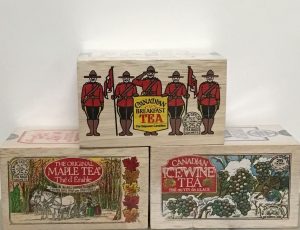 Canadian Flavoured Black Teas
Canadian Breakfast, Icewine, Maple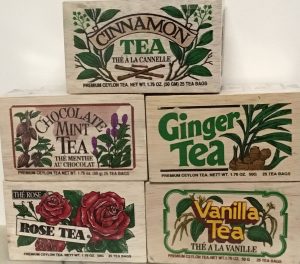 Flavoured Black Teas
Chocolate Mint, Cinnamon, Ginger, Rose, Vanilla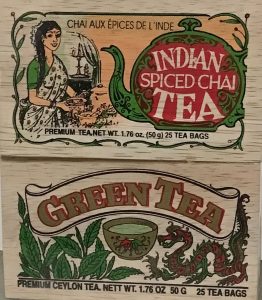 Chai and Green Teas
Indian Spiced Chai, Green Tea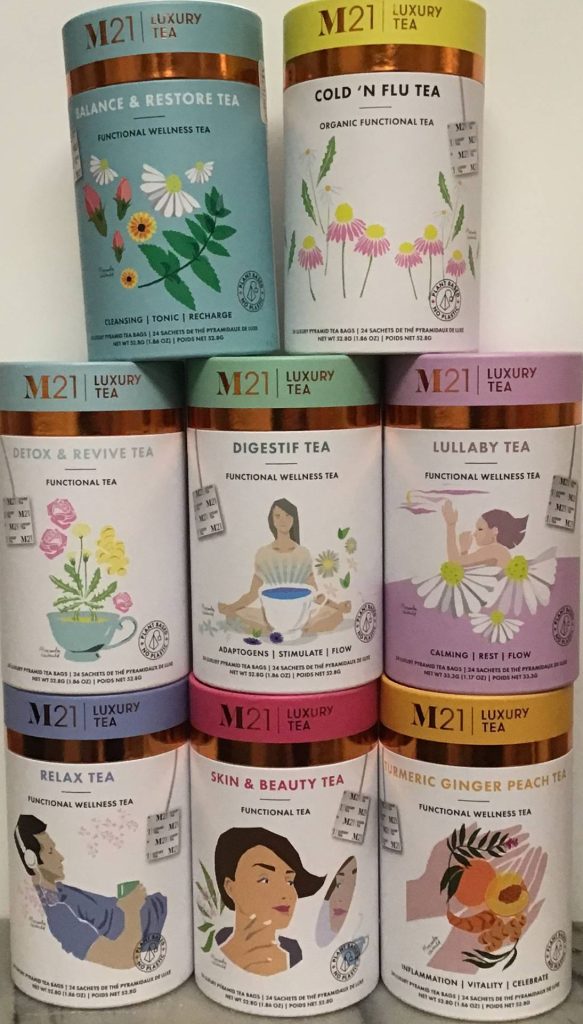 Wellness Teas
$11.99 Each
Balance & Restore – Light fruit and spice with a mint finish
Cold n' Flu – Robust cold and flu fighting herbs.
Detox & Revive – Detox and revive, like a walk in a northern Pacific rain forest.
Digestif – Licorice notes and smooth spices.
Lullaby – Delicious lemon notes with hints of restful herbs
Relax – Soothing and calming northern herbs with raspberry and lemon.
Skin & Beauty – Rejuvenate skin to a healthy glow. A fresh air blend of herbs.
Tumeric Ginger Peach Black Tea – Tumeric and ginger spices meld with juicy peach.
Tea Bag Canisters
$11.99 Each
100% plant-based, compostable pyramid teabags with string and tag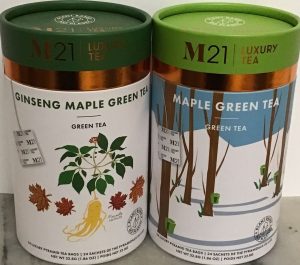 Green Teas
Ginseng Maple Green, Maple Green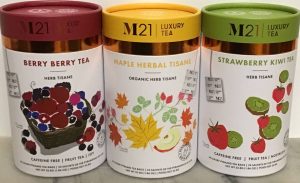 Herbal and Fruit Teas
Caffeine Free
Berry Berry, Maple Herbal Tissane, Strawberry Kiwi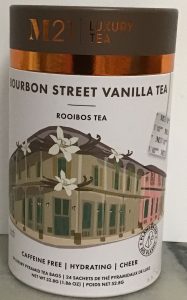 Roiboos Tea
Caffeine Free
Bourbon Street Vanilla Roiboos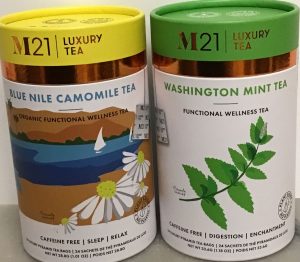 Herbal Teas
Caffeine Free
Blue Nile Camomile, Washington Mint