Leaves are changing and the weather is getting cooler which means it is time for the fall season. We have many treats and gift ideas to help celebrate Thanksgiving, Halloween and the fall season.
Pumpkin Pie Fudge – See you next season!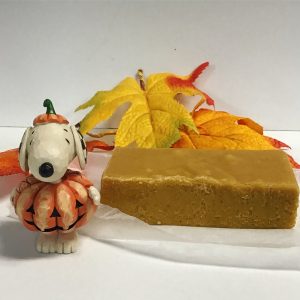 Pumpkin Pie fudge has always been a fall favourite here at Candies of Merritt. Highly requested all year round we only make pumpkin pie fudge from around the first day of fall and for the month of October.  Priced at $17.95 a pound you can get any size piece you would like as long as we are able to cut it.
Pumpkin Pie Fudge is only available until October 31st so make sure you don't miss out.
Fall and Halloween Chocolate
In addition to our regular range of candies and chocolates we also have some more Thanksgiving or Halloween themed options to suit the fall season.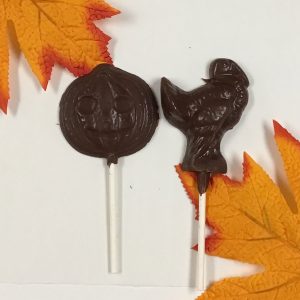 Milk Chocolate
Turkey or Pumpkin on a Sticks
$2.75 Each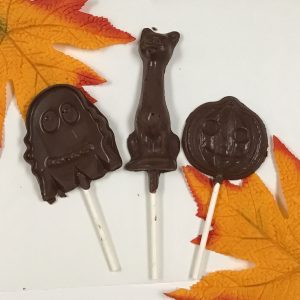 Milk Chocolate
Halloween on a Sticks
$2.75 Each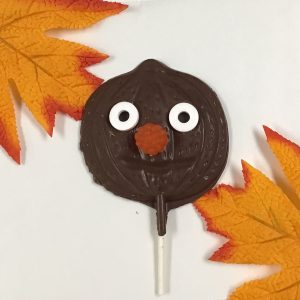 Milk Chocolate
Jack O'Lantern on a Stick
$5.95 Each
Colour Change Hot Chocolates
If you are looking for a treat to help you warm up after an evening of trick or treating in the cool temperatures Gourmet du Village hot chocolates are a great option. Along with the wide selection of different flavours we stock their colour change hot chocolates which are fun for old and young alike.
Each package makes one mug of Gourmet du Village's white hot chocolate, which has a creamy vanilla taste, that magically changes colour when you add hot water or milk, They are sure to be a crowd favourite. Available in pink, blue, green, purple and teal these are sure to be a hit. Also available is the Orange dragon which has a creamsicle flavour to it.
New this year Gourmet du Village have brought out special Halloween themed packages of colour change hot chocolate. They have also brought back red velvet hot chocolate in a Halloween inspired package.
Buy one package at $1.49 or stock up by choosing any 10 for $13.50.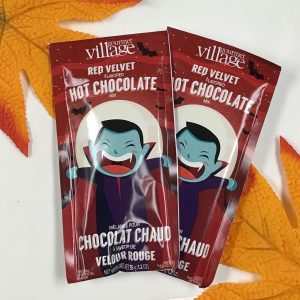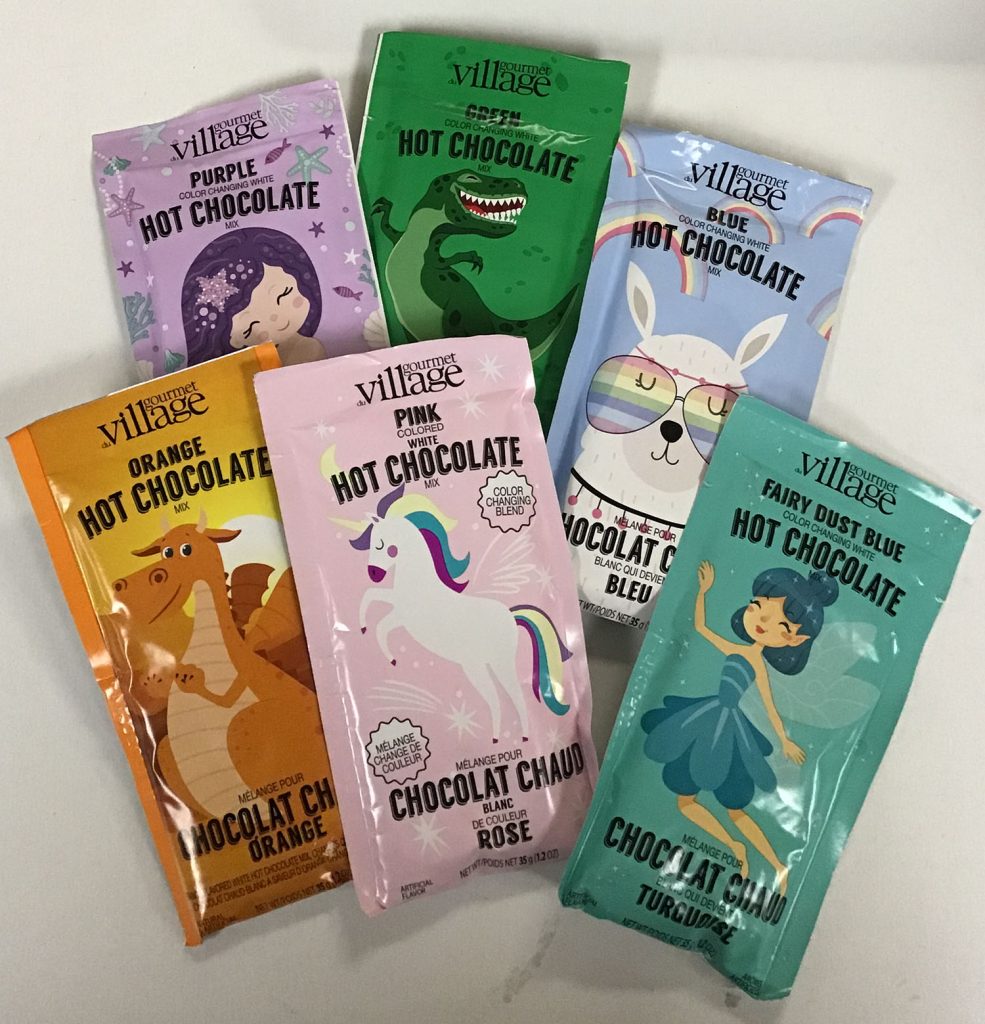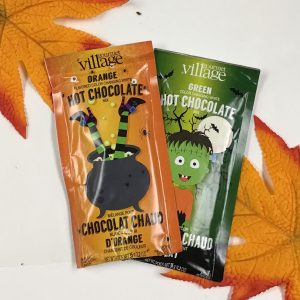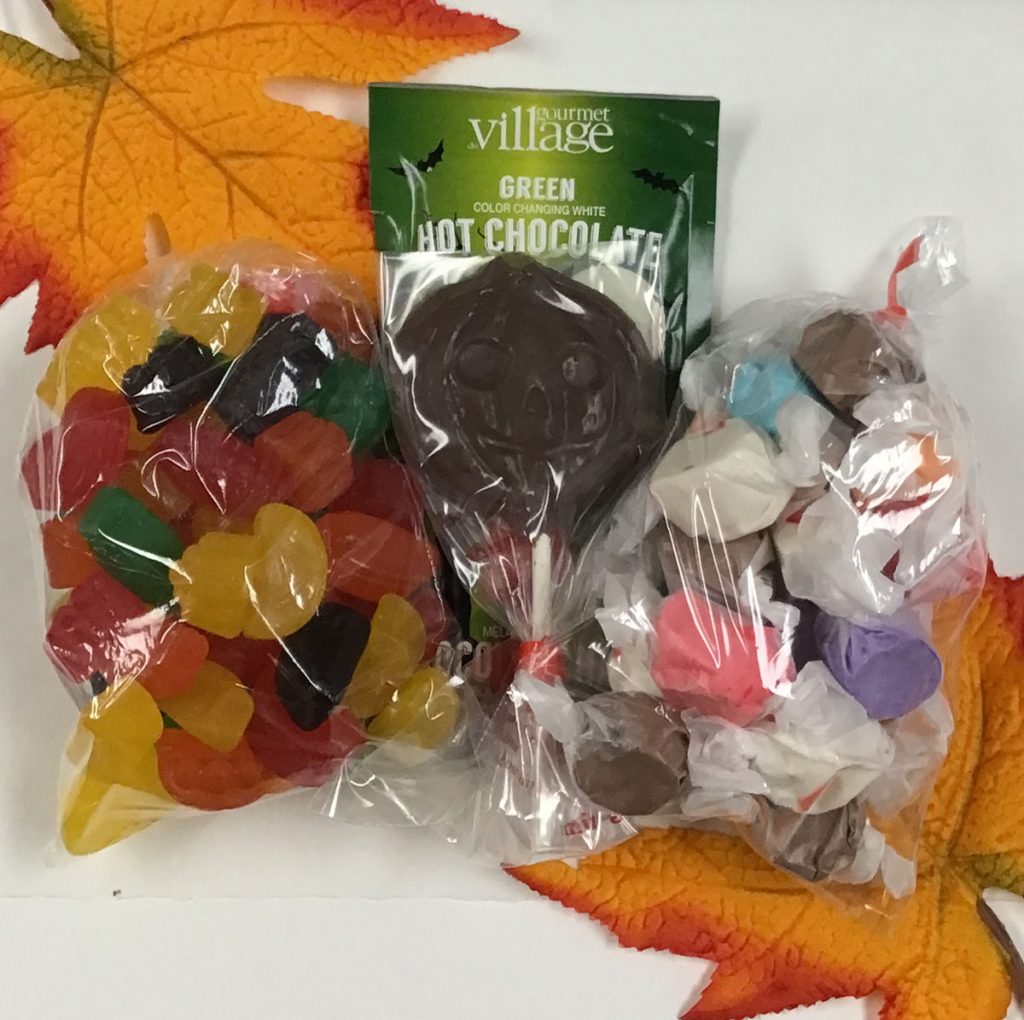 Halloween Treat Bags
Includes: Gummy Candy, Milk Chocolate on a Stick, Colour Change Hot Chocolate
$8.95 Each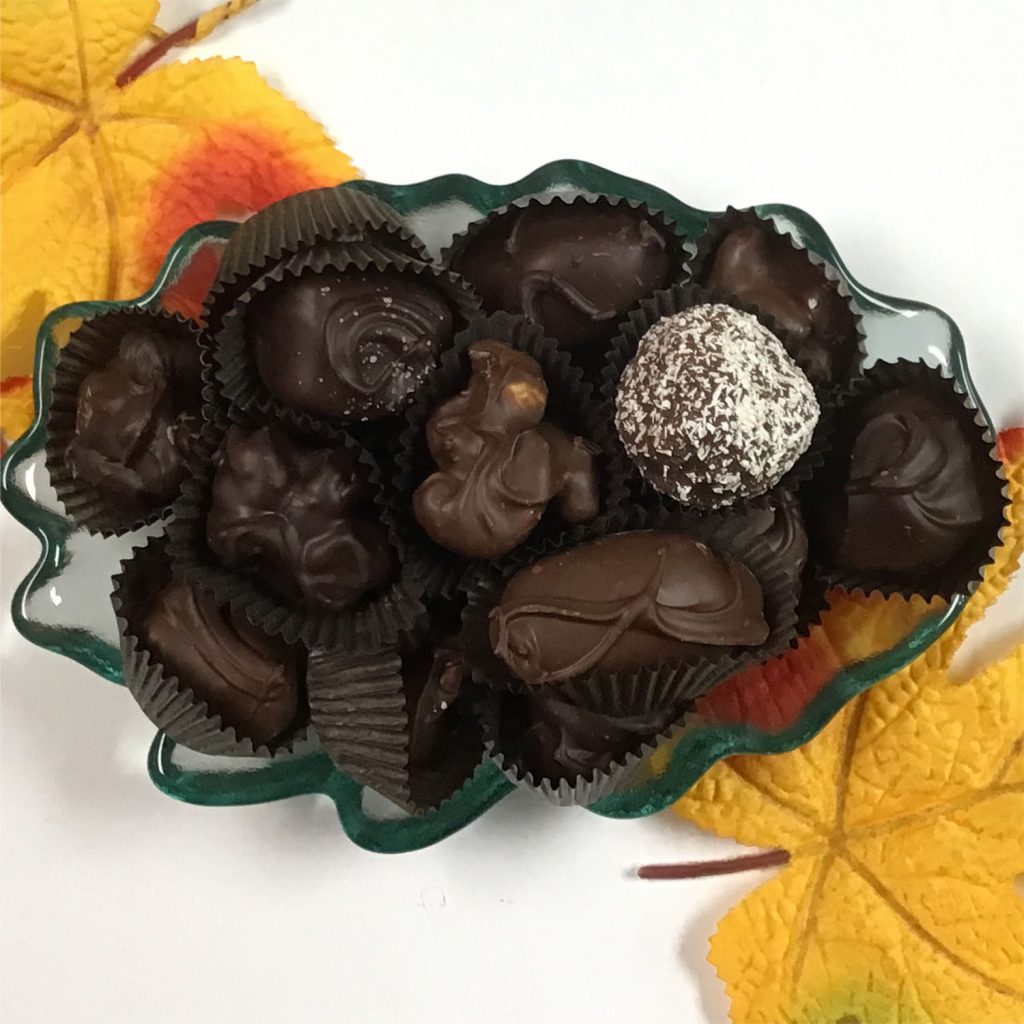 Glass Leaf Dish with Chocolates
A glass leaf shaped dish filled with a selection of our most popular chocolates
$24.95 Each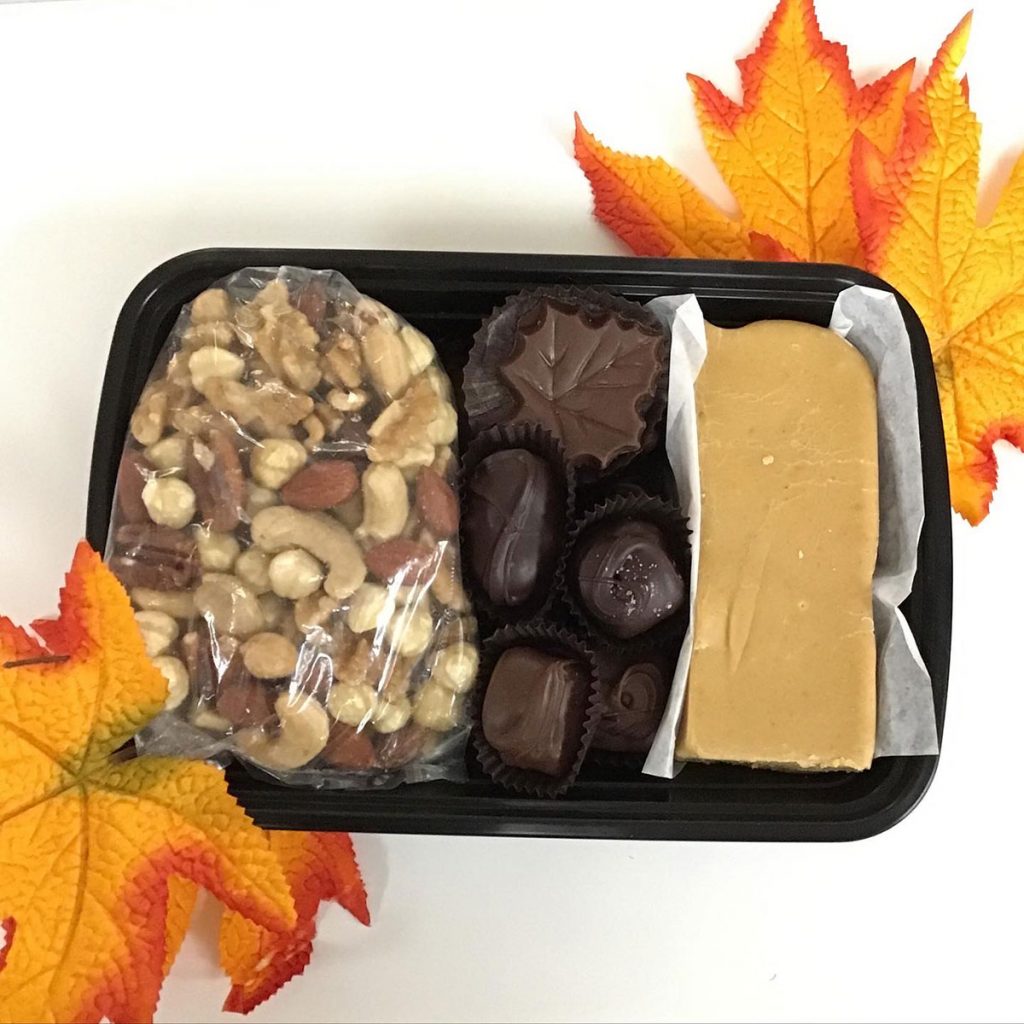 Fall Sampler
Includes: Roasted Mixed Nuts, Hand Dipped Chocolates and, Pumpkin Pie Fudge
$27.95 Each – sold out

Fall Giftware
Along with all of the tasty treats we have available for Thanksgiving and Halloween we have a selection of mugs and figurines that celebrate the spirit of the season. Below is just a small selection of what we have available with more in store.
Fall Mugs
New for this fall season we have a trio of mugs which also include a recipe that can be made in the mug. Caramel Apple Pie, Salted Caramel Cheesecake and Pumpkin Pie are the three featured flavours that we have available and each lists the ingredients and instructions you need to make your mug dessert. These mugs are priced at $13.95 each.
Fall Figurines
We have a wide range of different figurines and gift ideas that help celebrate the colours and joys pf the fall season
Ed – Cherished Teddy holding pumpkin – $28.00
Sedley – Cherished Teddy raking leaves – $23.00
Snoopy dressed as Pumpkin – $22.00
Autumn Angel by Jim Shore – $42.00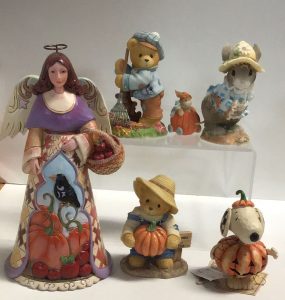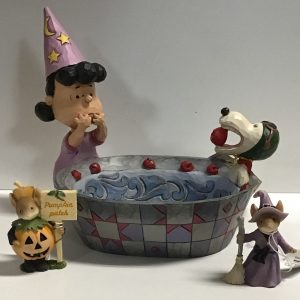 One of the big main events of the fall season other than Thanksgiving is Halloween. We have a few different figurines dressed in costumes that help celebrate the spooky holiday.
Snoopy Candy Bowl – $55.00
Too Cute Too Spook – Mouse dressed as witch – sold out

Pumpkin Spice Mice – Mouse dressed as pumpkin – sold out
Over the years Cherished Teddies have brought out a wide range of bears to help celebrate Halloween in a wide range of different costumes.
Milt & Garrett – $28.00
Honey – Bear dressed as Bear – $23.00
Gary – Bear dressed as blue pirate – $35.00 – sold out
Jean – Bear dressed as Red Pirate – $35.00 – sold out
Tabitha – Bear Dressed as Cat – $20.00