Description
Gourmet du Village have been creating recipes for dips and seasoning blends since 1982. Located in Quebec, the Gourmet du Village line has grown to encompass a wide variety of products such as their ever popular dip mixes and brie toppings as well as a range of other products and seasonings to help add new flavours to every day meals. To compliment the savoury products that they make they also have a collection of sweet dessert items as well as their hugely popular hot chocolates.
Dip Mixes
Gourmet Village's dip mixes are great to serve as appetizers or as a snack all year round and are one of their most popular products. Easy to make all you have to do is add sour cream and mayonnaise along with the package to make approximately two cups of dip.
Each package also includes alternative recipe suggestions to use the seasonings in. They are priced at $3.99 each.
We have available:
B.L.T
Cheddar Onion
Creamy Ranch
Guacamole
Lemon Dill
Lime & Cilantro
Mango Curry
Onion Chive
Roasted Garlic
Roasted Pepper
Salmon
Southwest Ranch
Spinach & Bacon
Sun Dried Tomato
Tzatziki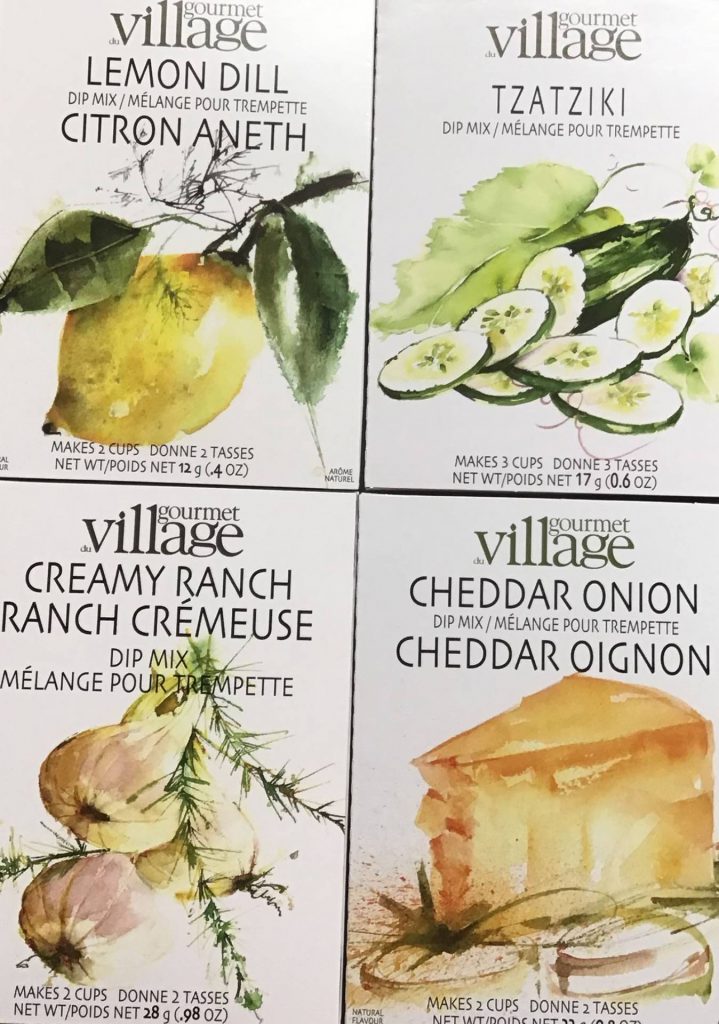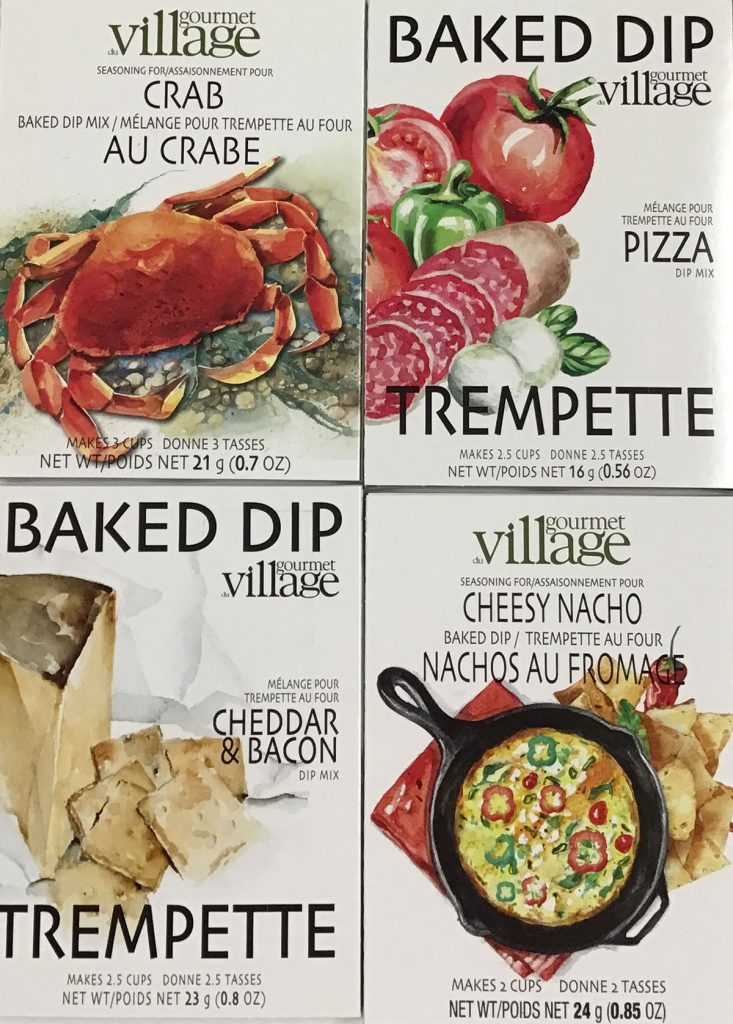 Baked Dip Mixes
Gourmet Village's baked dips make a great appetizer but can also be enjoyed as a meal by themselves. Enjoy with crackers or crusty bread warm out of the oven. Each package makes 2-3 cups and top with a layer of cheese on top for a rich and tasty dip. Each package is $3.99 and also includes alternate recipes.
We have available:
Caprese Tomato Basil
Cheddar Bacon
Cheesy Corn
Cheesy Mushroom
Cheesy Nacho
Crab
Fiery Sriracha
French Onion
Jalapeno Popper
Pizza
Spinach Artichoke
Brie Toppings and Skillets
Gourmet du Village makes it easy to make baked brie with their toppings available in a variety of flavours. Use these toppings on Brie or Camembert and serve with a crusty bread or crackers. Also the cheese topping jars can be used as a chutney or jelly in any cheeseboard and work great in sandwiches and more. The possibilities are endless.
Dry Brie Toppings -$4.99 Each
Apricot Jalapeno
Fig & Pistachio
Maple Walnut
Pecan & Brown Sugar
Cheese Topping Jars – $9.95 Each
Cranberry Orange
Green Pepper Jelly
Red Pepper Jelly
Brie Skillets – $21.95 Each
Fig & Pistachio
Pecan & Brown Sugar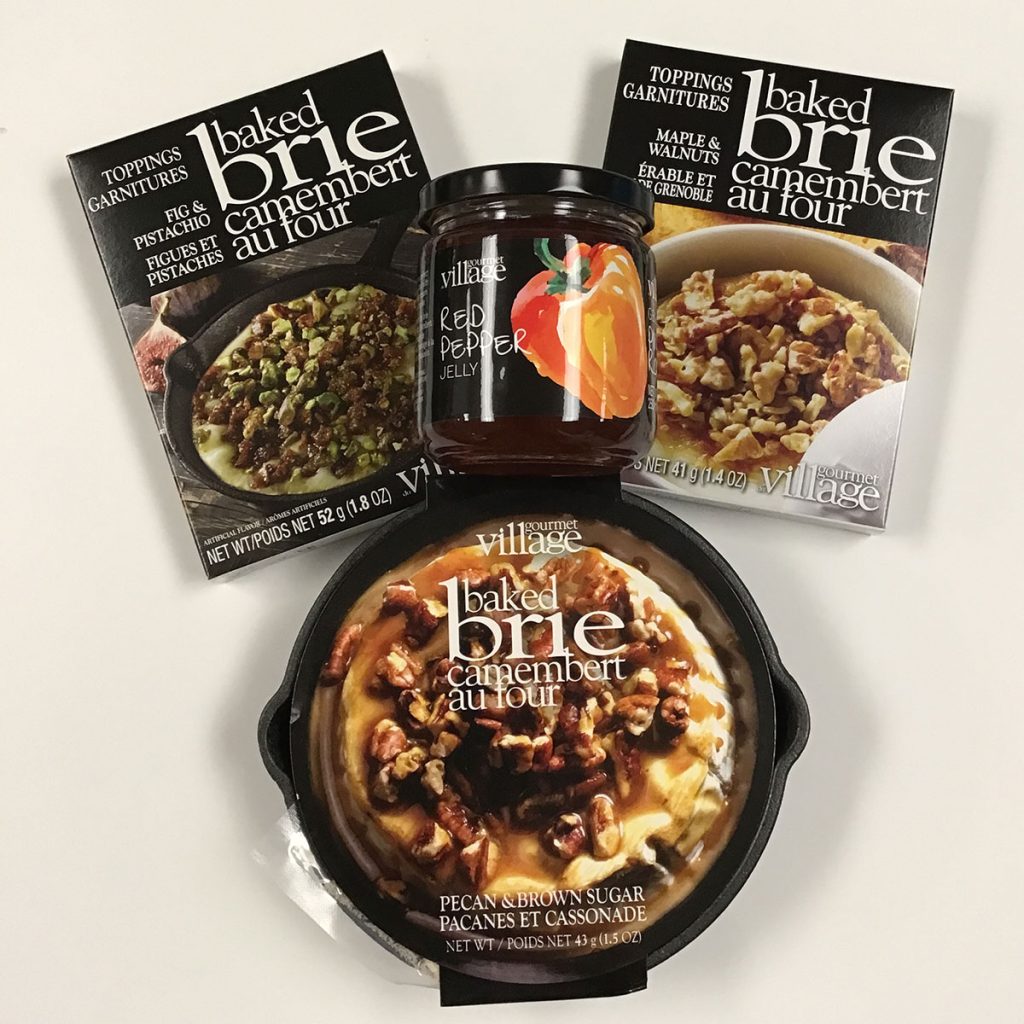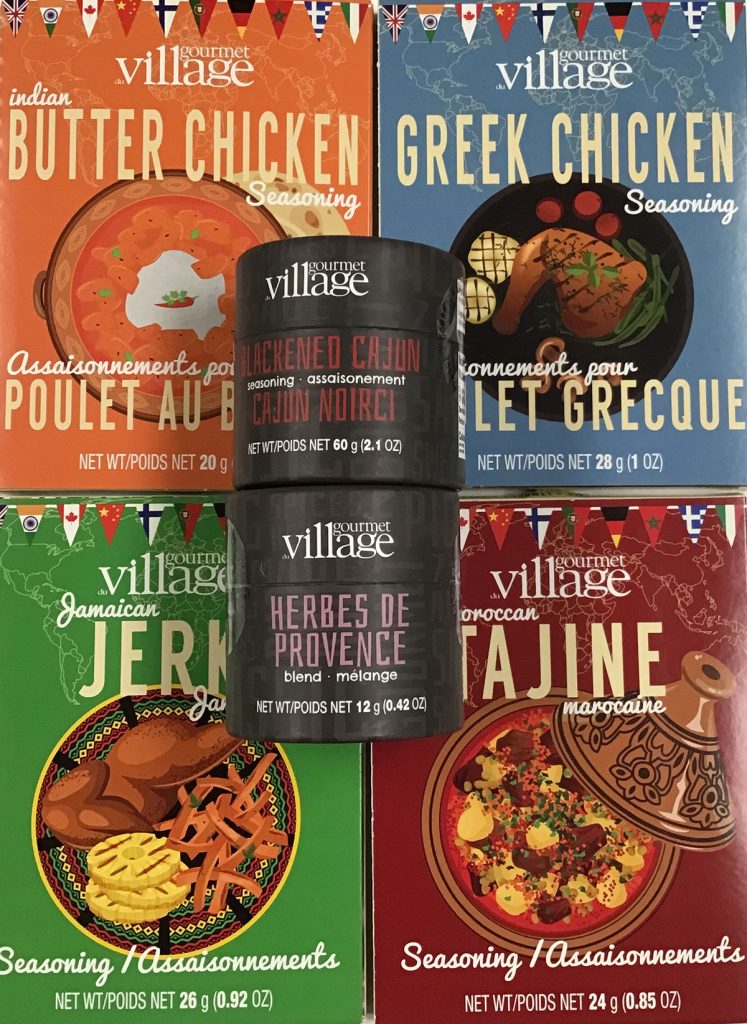 World Flavour Seasonings
With easy to follow recipes and pre-portioned seasonings Gourmet du Village makes cooking gourmet meals simple. Each recipe card comes with a special blend of seasonings along with recipes to help you elevate your meals. From Indian Butter Chicken to Portuguese Piri Piri there are many options to discover and try.
We have available:
Recipe Cards -$3.99 Each
Baja Chili Lime Shrimp
Butter Chicken
Fajita
Greek Chicken
Jamaican Jerk
Piri Piri
Roast Beef
Stir Fry
Tajine
Seasoning Pots – $7.95 Each
Blackened Cajun
Herbes de Provence
Italian
Mediterranean
Mesquite BBQ