National Relaxation Day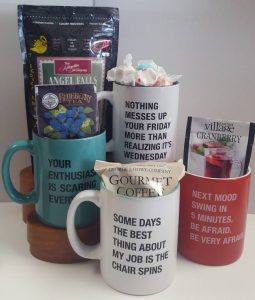 In the heat of August people are still looking for ways and places to relax. So it's fitting right in the middle of the month is National Relaxation Day. What do you choose to do for R and R? And what treats do you like?
Some people prefer a hot coffee, tea or hot chocolate year round to sip on while enjoying a good book, or while putting their feet up. But when it's warm outside many will choose a cold version of these drinks instead. Cranberry and apple ciders make up as hot or cold drinks. Iced coffee recipes are available on our coffee page. Iced tea recipes come on the loose leaf Metropolitan Tea packages, as well as being on the tea page. A fun mug to put it in is always worth a smile too.
A bit of candy to nibble on while relaxing can add to the enjoyment. Have you tried our 1o flavour Salt Water Taffy mix? Banana, black licorice, blue raspberry, chocolate, cinnamon, huckleberry, neapolitan, orange vanilla (creamsicle), pear and peppermint means there are lots of tastes to share.