Only Two Days Left. . . .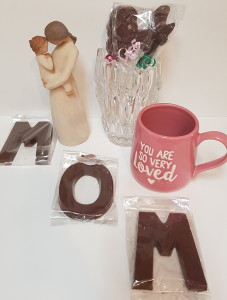 Mother's Day is in 2 days! Have you chosen a way to say thank you to special ladies in your life for all they do? We have a few options ready to go, if you are in need of suggestions.
An array of mugs are in stock, which can be filled with teas, coffees, hot chocolates or ciders. Or instead use chocolate, nuts or candy as a filler. Ready to go gift arrangements are also on the shelves. Plus there are a number of figurines that show a mother's love. Come in and see our selection today!