New Year, New Teas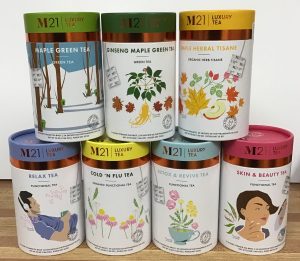 As we start a new year it gives us an opportunity to try new things. With it being a chilly winter season we have some new teas available to compliment our usual range of loose leaf and tea bags. There are seven different flavours, four that are functional teas as well as three that are maple based. Each package contains 24 tea bags which are plastic free, 100% plant based and are compostable and biodegradable.
Each package is priced at $7.99.
Functional Teas
Cold 'N Flu Tea
Detox & Revive
Relax – Soothing and calming northern herbs with raspberry and lemon.
Skin and Beauty
Maple Teas
Ginseng Maple Green Tea – Antioxidant green and total body ginseng. Wild maple flavour.
Maple Green Tea – Antioxidant green tea with natural wild maple flavour.
Maple Herbal Tisane – Fruity with wild forest maple sweetness.