National Teddy Bear Day!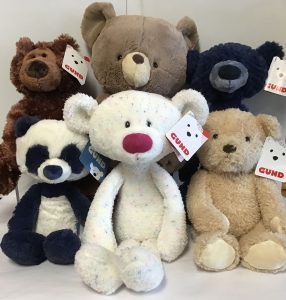 Almost everyone's earliest memories involves a special teddy they had as a child. They are always there for a cuddle when you need one, and some people still have their childhood bears they grew up with. Here at Candies of Merritt we take great care in choosing the teddies we bring in, hoping that one day they will be part of your memories whether you need a bear for a newborn baby or just to let someone know you care about them.
Even though over the years Gund has grown to include many different type of animals and stuffies the classic teddy bear is still the most popular cuddly friend for any age. Come visit us to check out all of the different teddy bears, and other animals, we have in stock waiting to find their forever home.