Halloween Is Almost Here!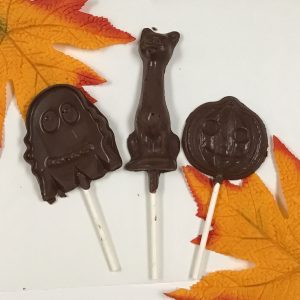 Where is the year 2023 going? We've already reached the end of October, which means Halloween is almost here! Kids are eagerly anticipating trick or treat time tomorrow night. Have you got a special treat for those kiddies near and dear to your heart? We still have a few options available. Milk chocolate pumpkins, ghosts, cats and owls on a stick are ready. Along with these, there are a very few larger Jack-o-lantern faces, decorated with a bit of candy for extra character.
For those that need a dairy free option there are a few dark chocolate pumpkins on a stick made (our dark chocolate itself contains no milk). Also gummy pumpkins, worms and spooktacular mix are all made dairy free, gluten free, fat free and low sodium. This is also true for our candy skewers. And there is certainly lots of other gummy candies to choose from which are dairy free.
If you have someone in your life who needs to observe a vegan diet, our dark chocolate pumpkins on a stick will work. Plus there are a few different gummy candies, like sweet peaches, cola bottles, mango-pineapple rings and more, which move beyond being dairy free to the vegan safe category. The jellies we make ourselves are also vegan friendly (so dairy free as well!)
Since Halloween is almost here if anyone is looking for last minute hand out ideas we do have mini bags of gummies done up in groups of 20 for sale. Also colour changing hot chocolates from Gourmet du Village are available in 8 different fun packaging options.
With the ending of October also comes the end of Pumpkin Pie Fudge. We are now sold out for the 2023 season. Stay tuned for the Christmas flavours to slowly make their way into the cabinet.
Have a safe and happy Halloween!