Father's Day is Sunday June 20th and here at Candies of Merritt we have many gift ideas to treat your Dad and Grandpa and show them how much they mean to you.
Does your Dad like to cook or barbecue? We have a wide selection of different Gourmet Foods to help them experiment with new flavours in the kitchen or on the grill.
Does your Dad have a sweet tooth? We have you covered there as well. We have a large selection of different candies, chocolates and, fudges to satisfy any sweet craving.
We also have a selection of different giftware and collectible pieces if you are looking for something to keep.
Chocolate Novelties and Gift Arrangements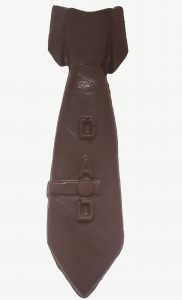 Milk Chocolate
Small Dad Tie
$6.50 Each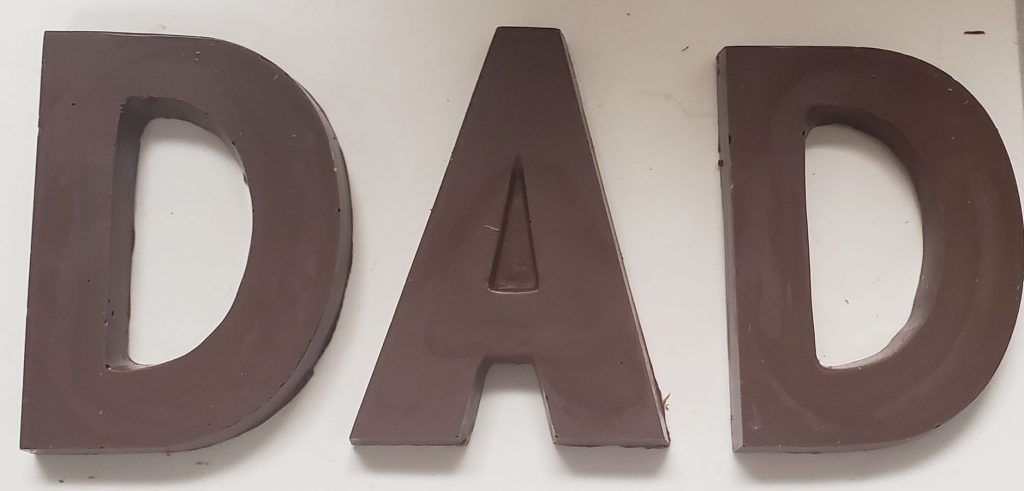 Milk Chocolate
DAD
$16.95 Each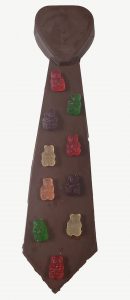 Milk Chocolate
Large Dad Tie
$24.95 Each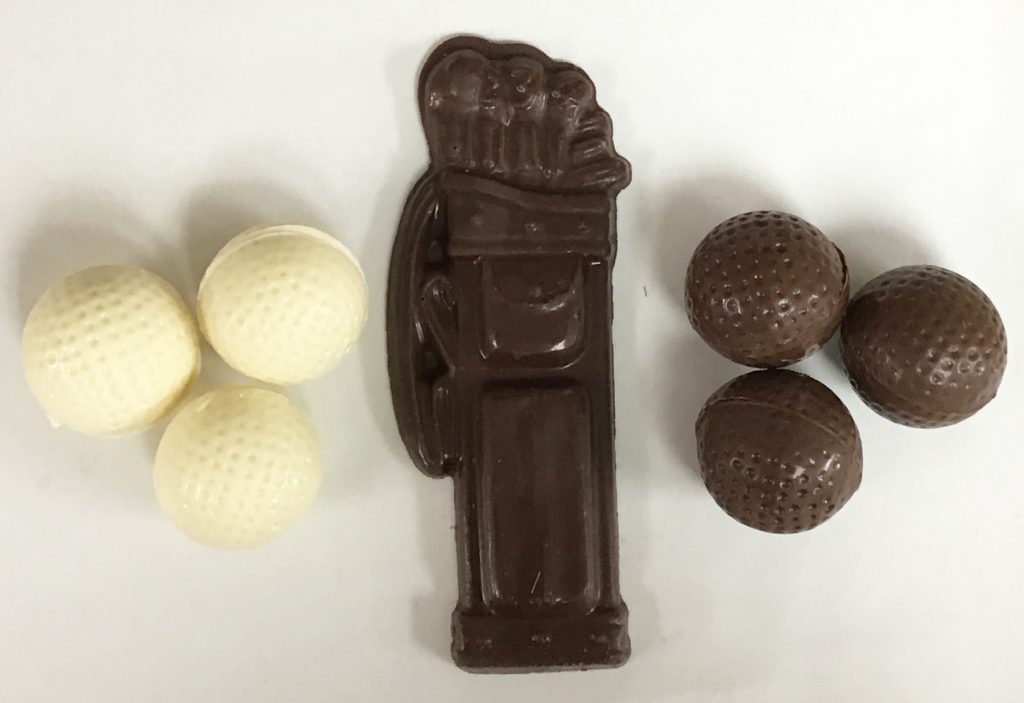 Milk Chocolate
Golf Bag – $6.95 Each
Milk or White Chocolate
Golf Balls (Set of 3) – $11.95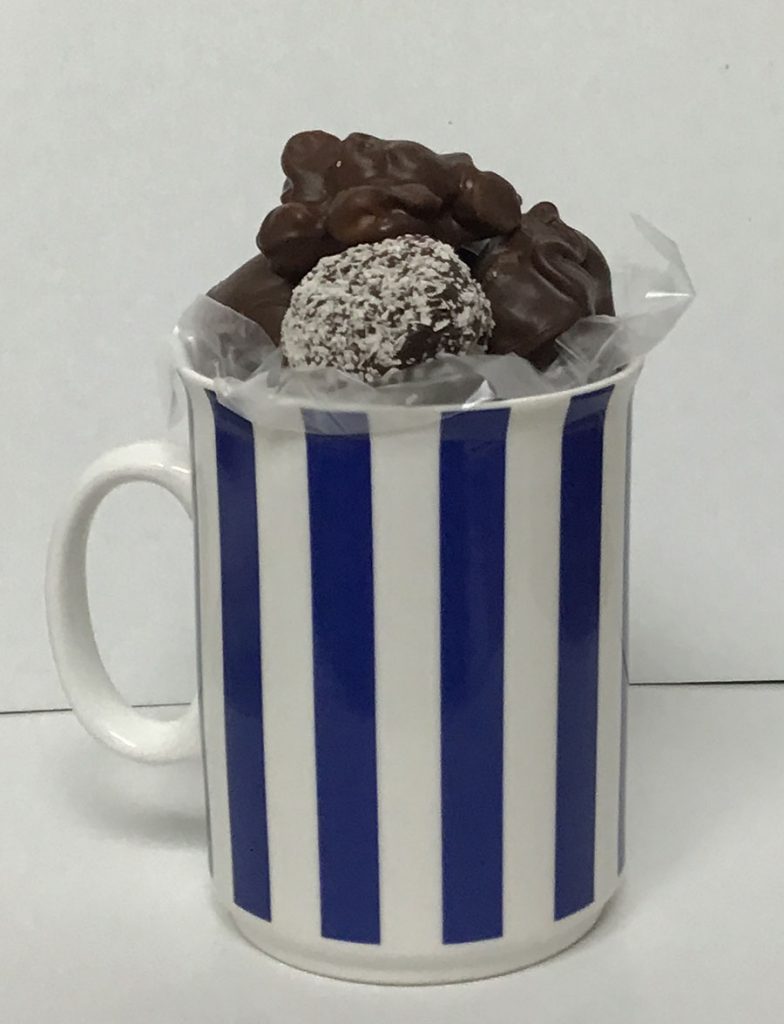 Striped Mug With Chocolate
A mug filled with an assortment of out most popular milk and dark chocolates.
$24.95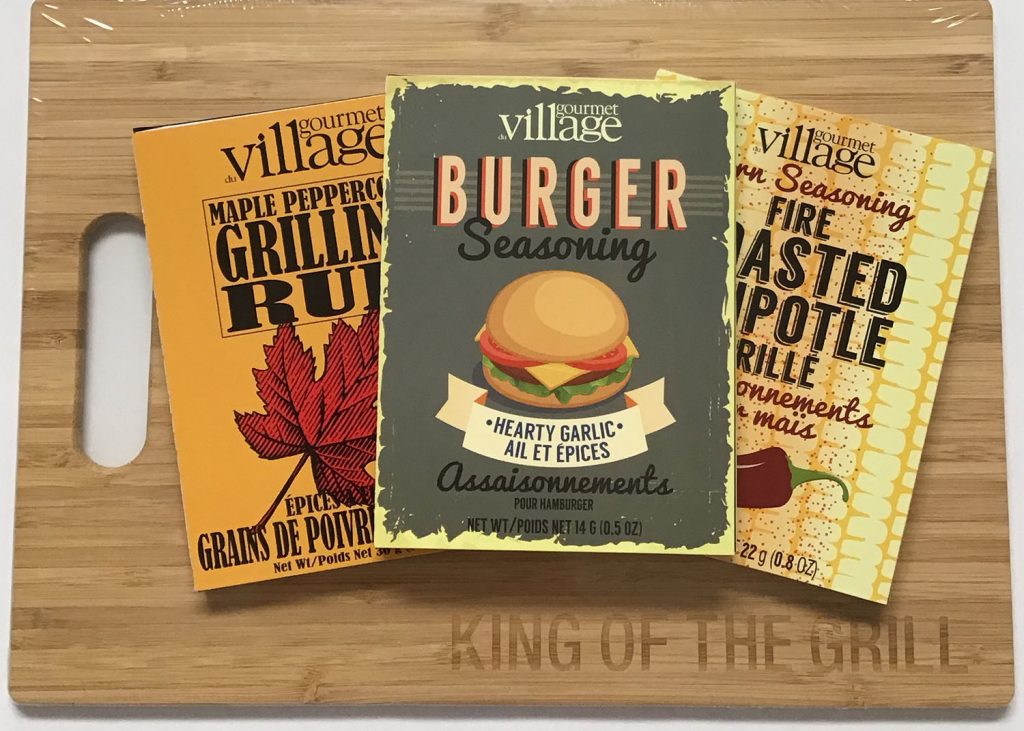 Burger King of the Grill
Three Gourmet du Village Recipe Cards packaged with a chopping board.
$26.95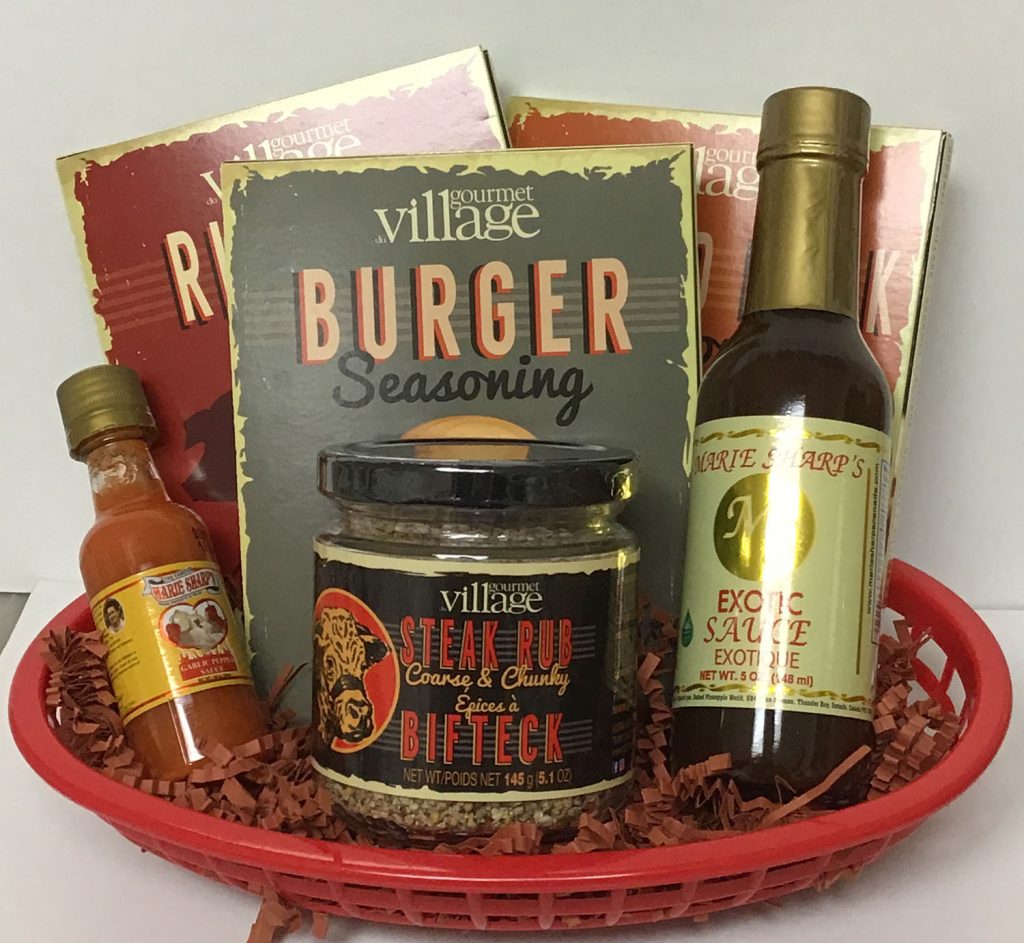 Barbecue Basket
Includes Three Gourmet du Village Recipe Cards, A Jar of Seasoning, 5 oz. Marie Sharps Sauce and, a travel size Marie Sharp's Hot Sauce.
$36.95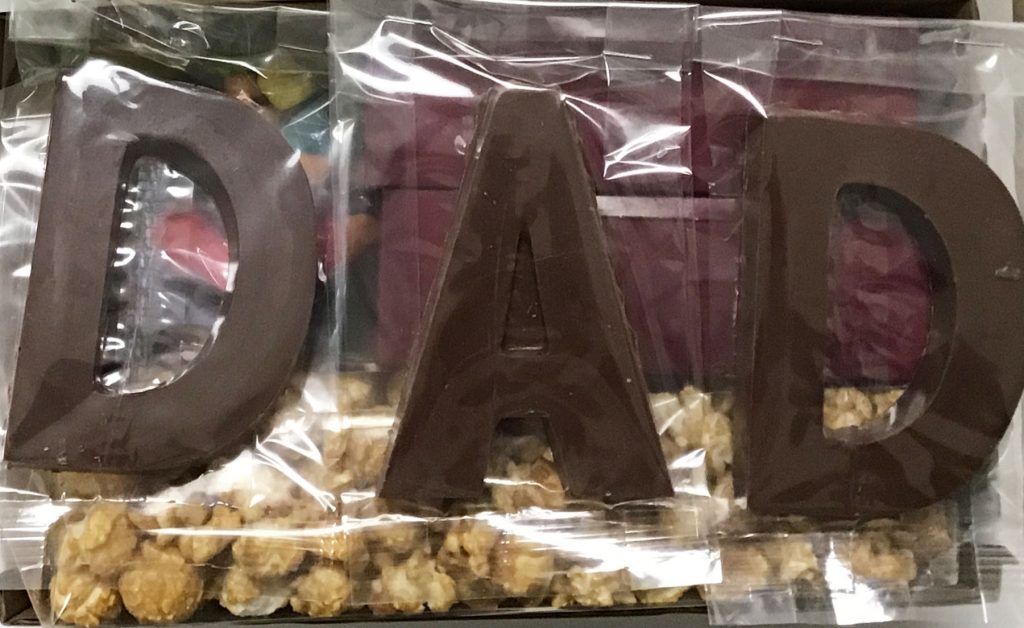 Dad Gift Box
Includes: Fudge, Jellies, Milk Chocolate DAD, Popcorn, Hot Chocolate and, Gummy Candy.
$49.95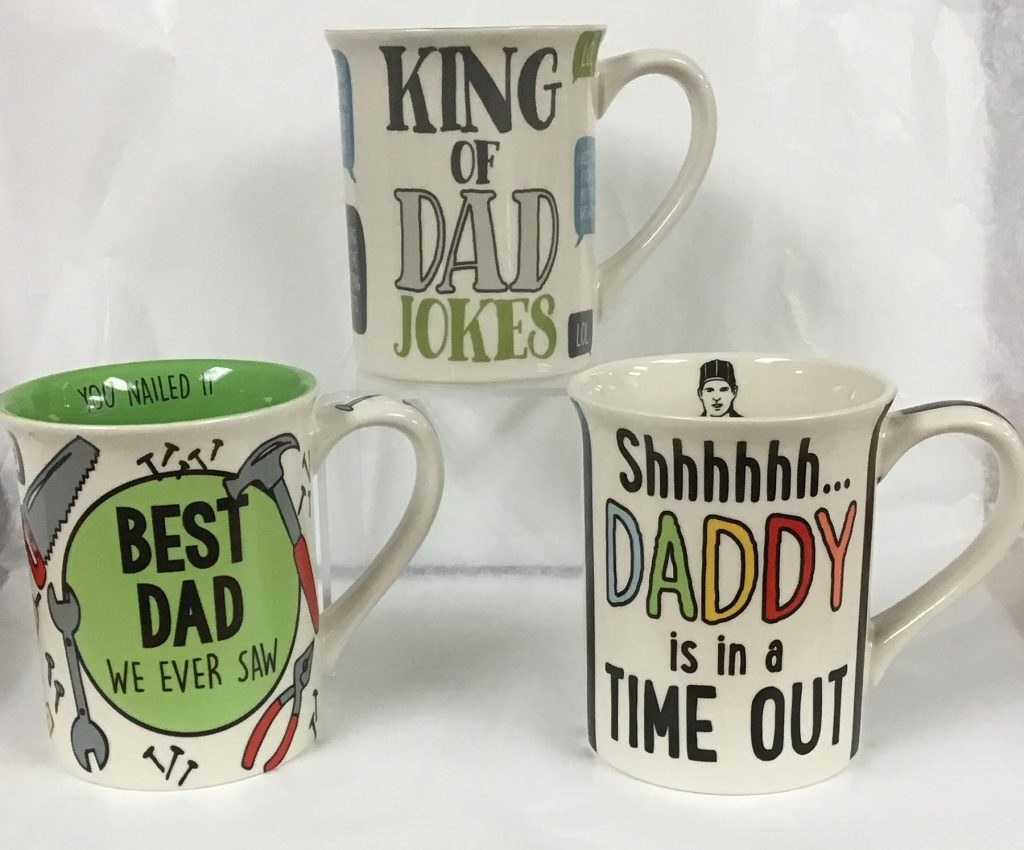 Mugs
Mugs make the perfect gift and can also be paired with a range of things such as chocolates, tea, coffee, hot chocolate or candy. Our Name is Mud mugs are dishwasher and microwave safe and feature bright and colourful designs. Each mug holds 16 oz. and are priced at $15.95 each.
Pocket Watches
$24.95 Each
If you are looking for a unique gift for your Dad or Grandpa for Father's Day, pocket watches are a good idea. Each pocket watch comes in its own gift box. We have a variety of different styles available to choose from.
Styles include: Golf, Hockey, Gears, Grandpa, Partial open face (available in silver and brass) and, Full open face.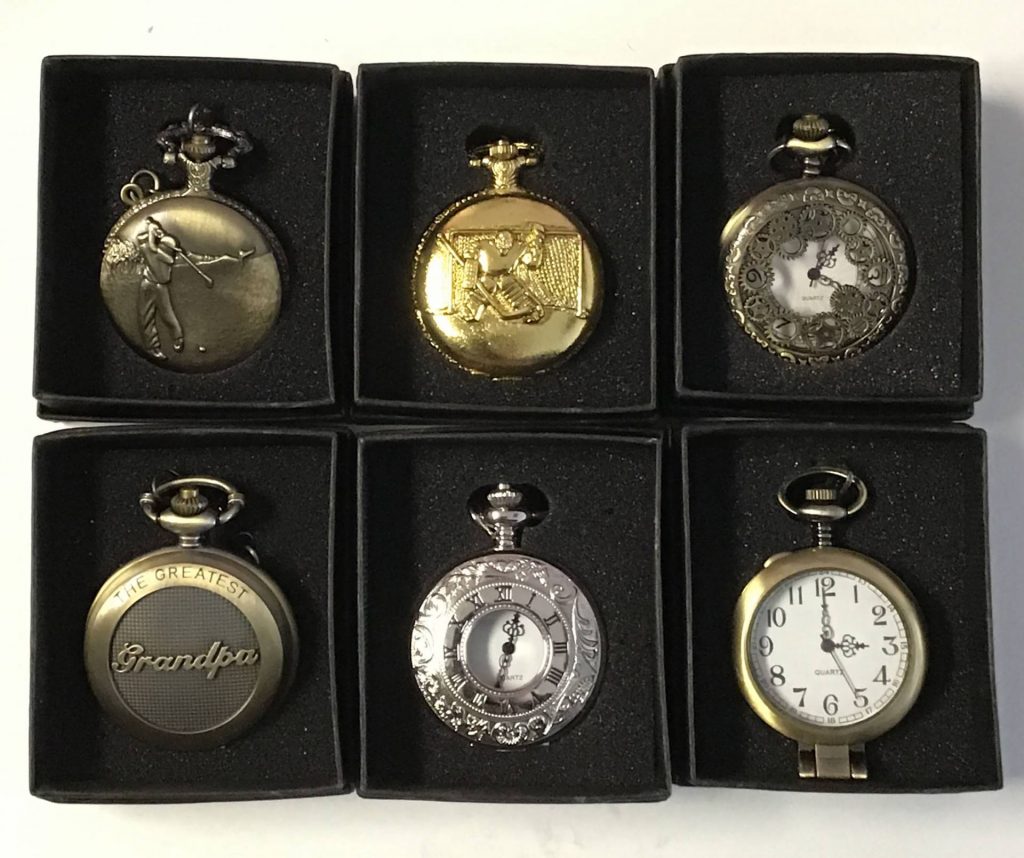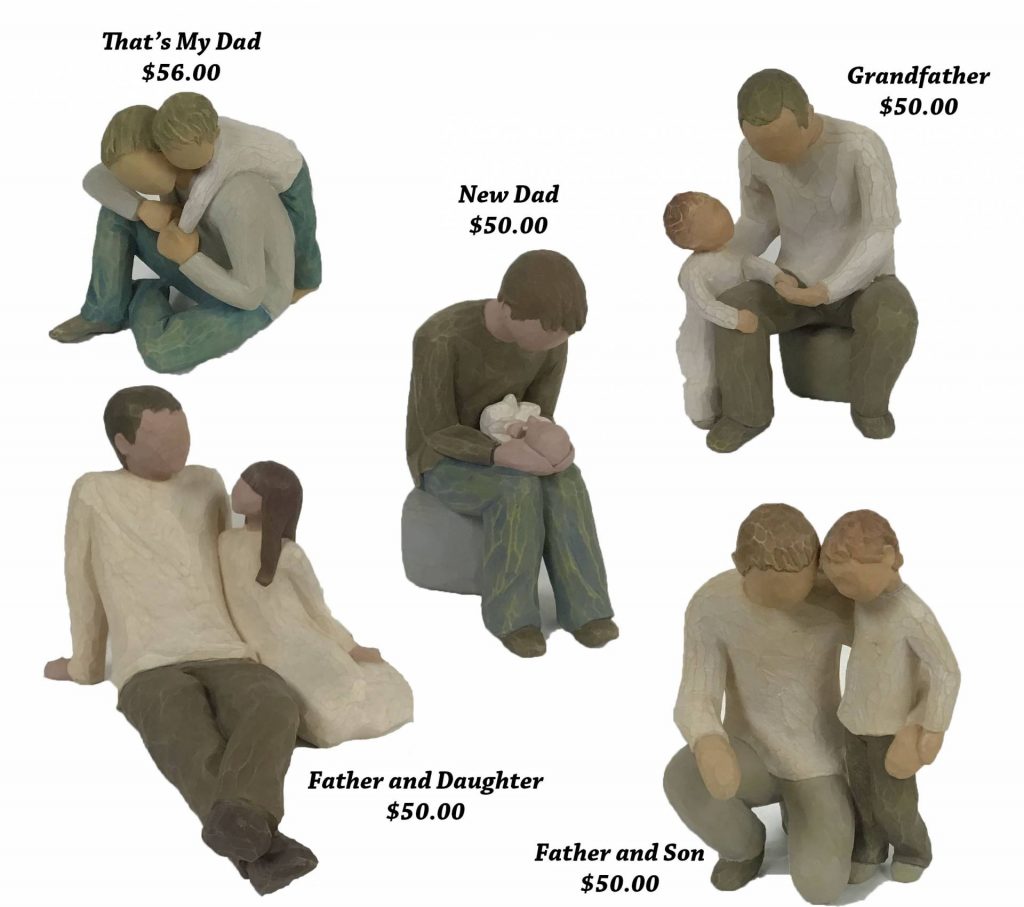 Willow Tree
Over the years the Willow Tree line has grown to include a wide range of figures depicting the relationship between a mother and child. From baby to adult there is a piece which portrays that special relationship through every stage of life. Each Willow Tree figurine includes a card with a heartfelt sentiment to help convey mow much your mom means to you. Each piece comes packaged in its original box.
Father and Daughter – Celebrating the bond of love between fathers and daughters
Father and Son – Celebrating the bond of love between fathers and sons
Grandfather  – Bridging generations with ageless love
New Dad – In awe and wonder of what's to come
That's My Dad – My favourite time is with you 
Cherished Teddies
Over the years Cherished Teddies have made. a range of pieces to celebrate dads.
I've Always Cherished Your Love and Guidance – $30.00
I Love Dad – $22.00
Dad For All You Do, This Day's For You – $24.00
Dad, You Help my Dreams Take Flight – $33.0o
When I Need a Hug I Run to Dad– $21.00
My Dad's the Best and Deserves the Rest – $33.00