National Teddy Bear Day!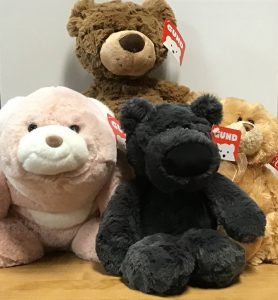 September 9th is known as National Teddy Bear Day. This day celebrates one of the most popular and well known childhood toys.  Many people have childhood memories that include their favourite teddy bear friends. Some of us even still have our childhood bears.
At Candies of Merritt we have carried Gund stuffed animals for a number of years. Gund has been around for over 100 years and have always been a leading manufacturer in stuffed animals. They were also one of the first companies to make a teddy bear back in 1900. They have always been known for their huggable designs and innovative plush animals. Over the years their offerings have grown to include many licensed lines as well as their ever popular baby Gund. Baby Gund are made with stitched eyes so they are especially safe for babies and young children. We have a selection of their bears, animals and, Baby Gund available for purchase in store.
No matter at any age from baby to senior a teddy bear is always a welcome friend and are always up for a hug and a cuddle.