Gourmet du Village have been creating recipes for dips and seasoning blends since 1982. Located in Quebec, the Gourmet du Village line has grown to encompass a wide variety of products such as their ever popular dip mixes and brie toppings as well as a range of other products and seasonings to help add new flavours to every day meals. To compliment the savoury products that they make they also have a collection of sweet dessert items as well as their hugely popular hot chocolates.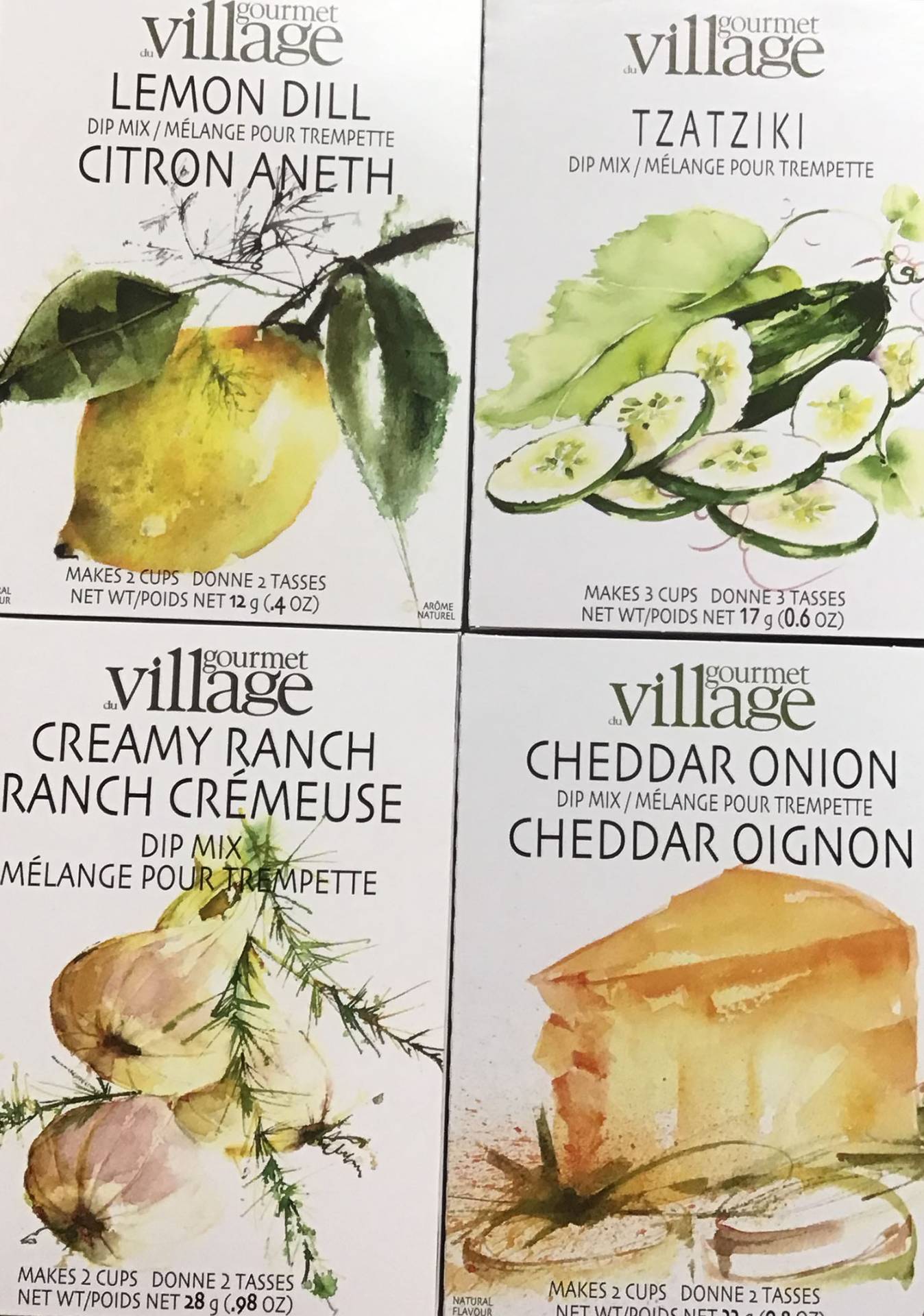 Dip Mixes
Gourmet Village's dip mixes are great to serve as appetizers or as a snack all year round and are one of their most popular products. Easy to make all you have to do is add sour cream and mayonnaise along with the package to make approximately two cups of dip.
Each package also includes alternative recipe suggestions to use the seasonings in. They are priced at $3.95 each.
We have available:
Lime & Cilantro
Lemon Dill
Tzatziki
Roasted Garlic
Roasted Pepper
Mango Curry
Cheddar Onion
Onion Chive
Sun Dried Tomato
Horseradish & Bacon
Baked Dip Mixes
Gourmet Village's baked dips make a great appetizer but can also be enjoyed as a meal by themselves. Enjoy with crackers or crusty bread warm out of the oven. Each package makes 2-3 cups and top with a layer of cheese on top for a rich and tasty dip. Each package is $3.95 and also includes alternate recipes.
We have available:
Baked Ricotta with Lemon Garlic and Chives
Fiery Sriracha
Creamy Spinach
Spicy Mexican
Cheddar and Bacon
French Onion
Baked Crab
Cheesy Nacho
Spinach Artichoke
Jalapeno Popper
Spicy Wing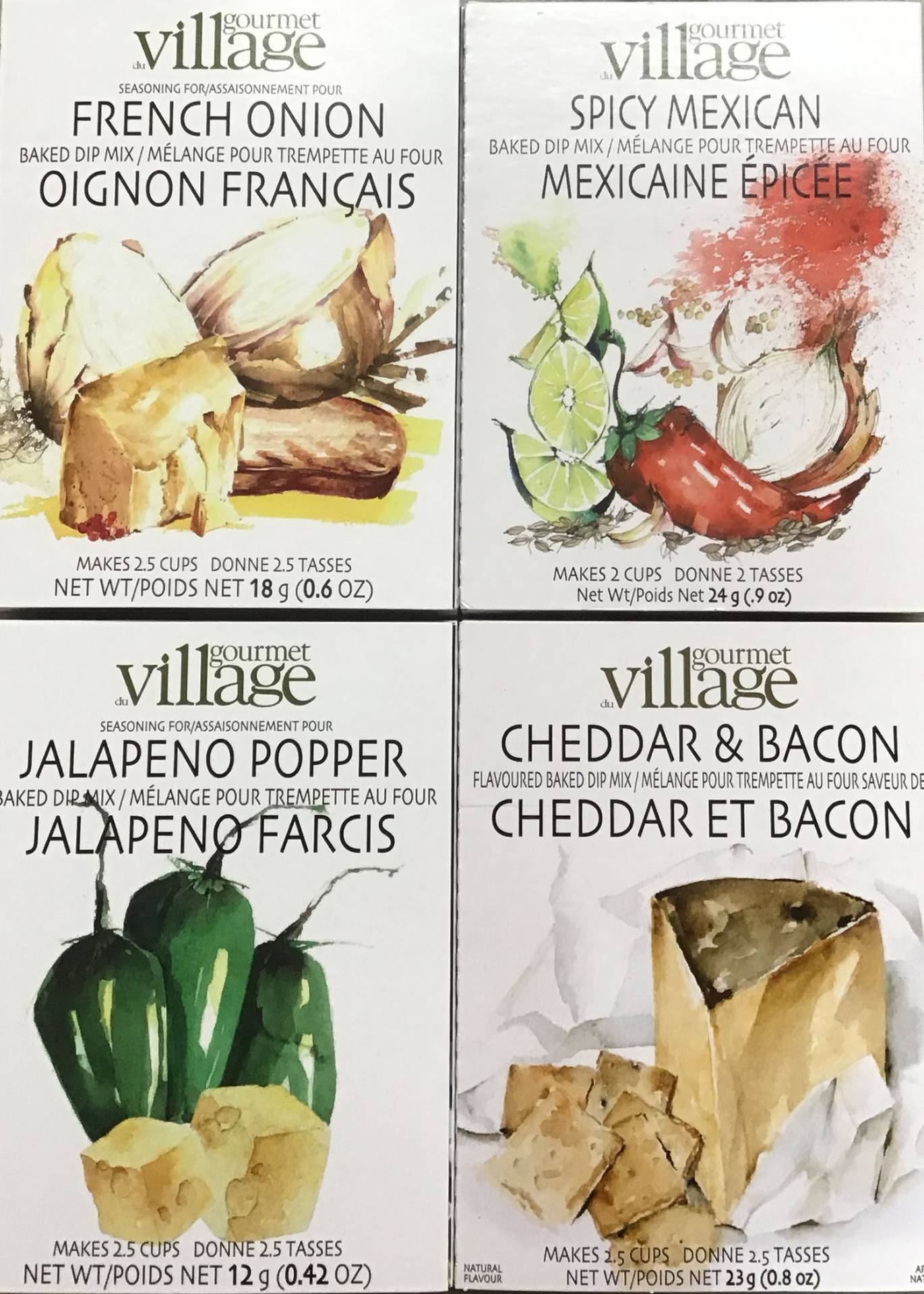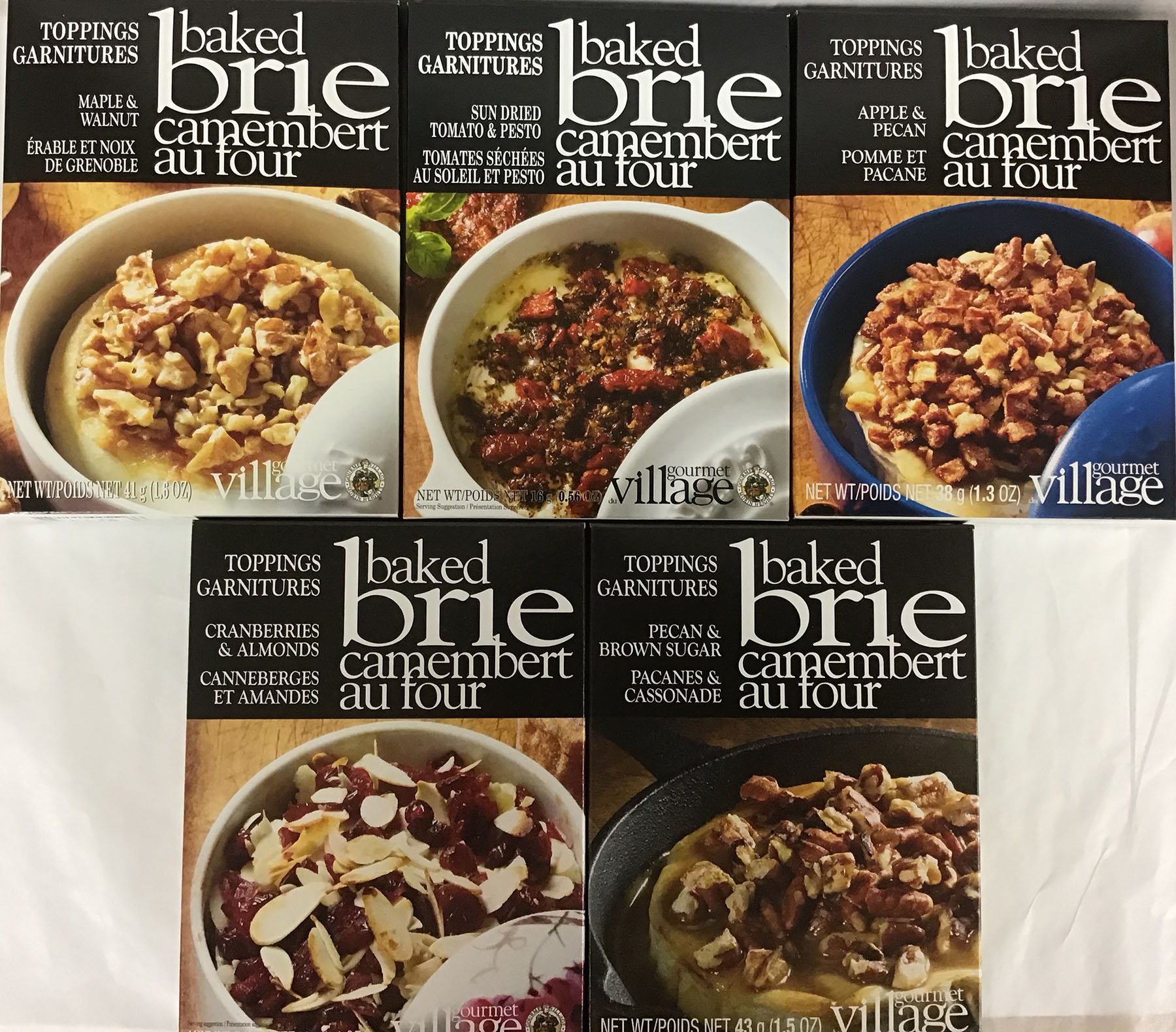 Brie Toppings and Cheeseballs
Gourmet du Village makes it easy to make baked brie with their toppings available in a variety of flavours. Use these toppings on Brie or Camembert and serve with a crusty bread or crackers. Also the cheese topping jars can be used as a chutney or jelly in any cheeseboard and work great in sandwiches and more. The possibilities are endless.
Baked Brie Toppings – $4.95 Each
Pecan Brown Sugar
Sun Dried Tomato and Pesto
Cranberry and Almond
Apple and Pecan
Maple Walnut
Cheese Topping Jars – $9.95 Each
Sweet Onion
Cranberry Orange
Barbecue Seasonings
Outdoor grilling and barbecuing is a favourite summer activity to bring family and friends together. Gourmet du Village offers a wide selection of barbecue sauces and seasonings to help add flavour to your meals.
Recipe Cards – $3.95 Each
Maple Peppercorn Grilling Rub
Chili Citrus Juiced Marinade
Pulled Pork Seasoning
Spicy Texan Grilling Rub
Spicy Chicken Wings
Rib Rub
Hearty Garlic Burgers
Barbecue Sauce – 350ml – $9.95 Each
Smoky Maple Chipotle
Hickory Smoke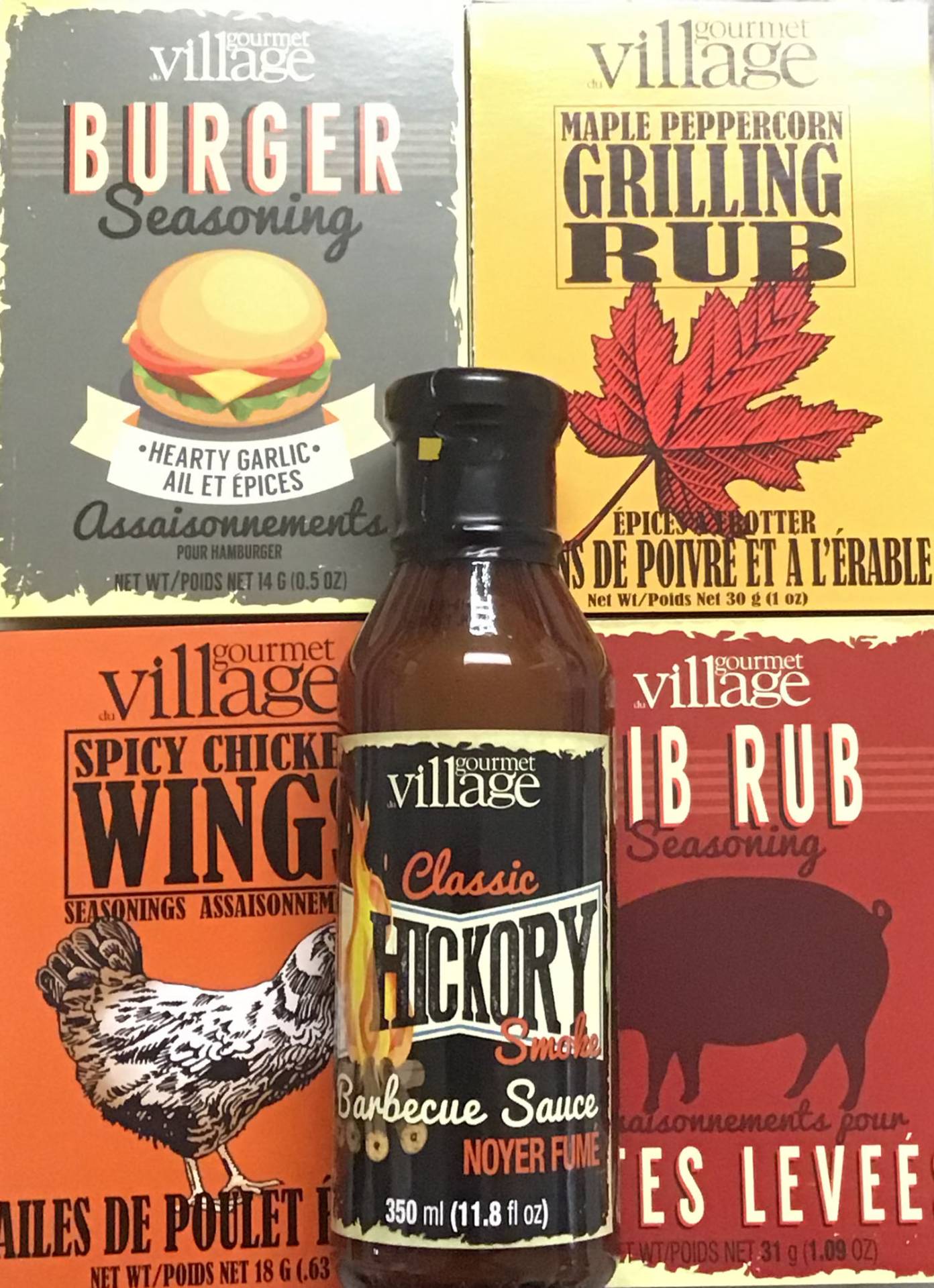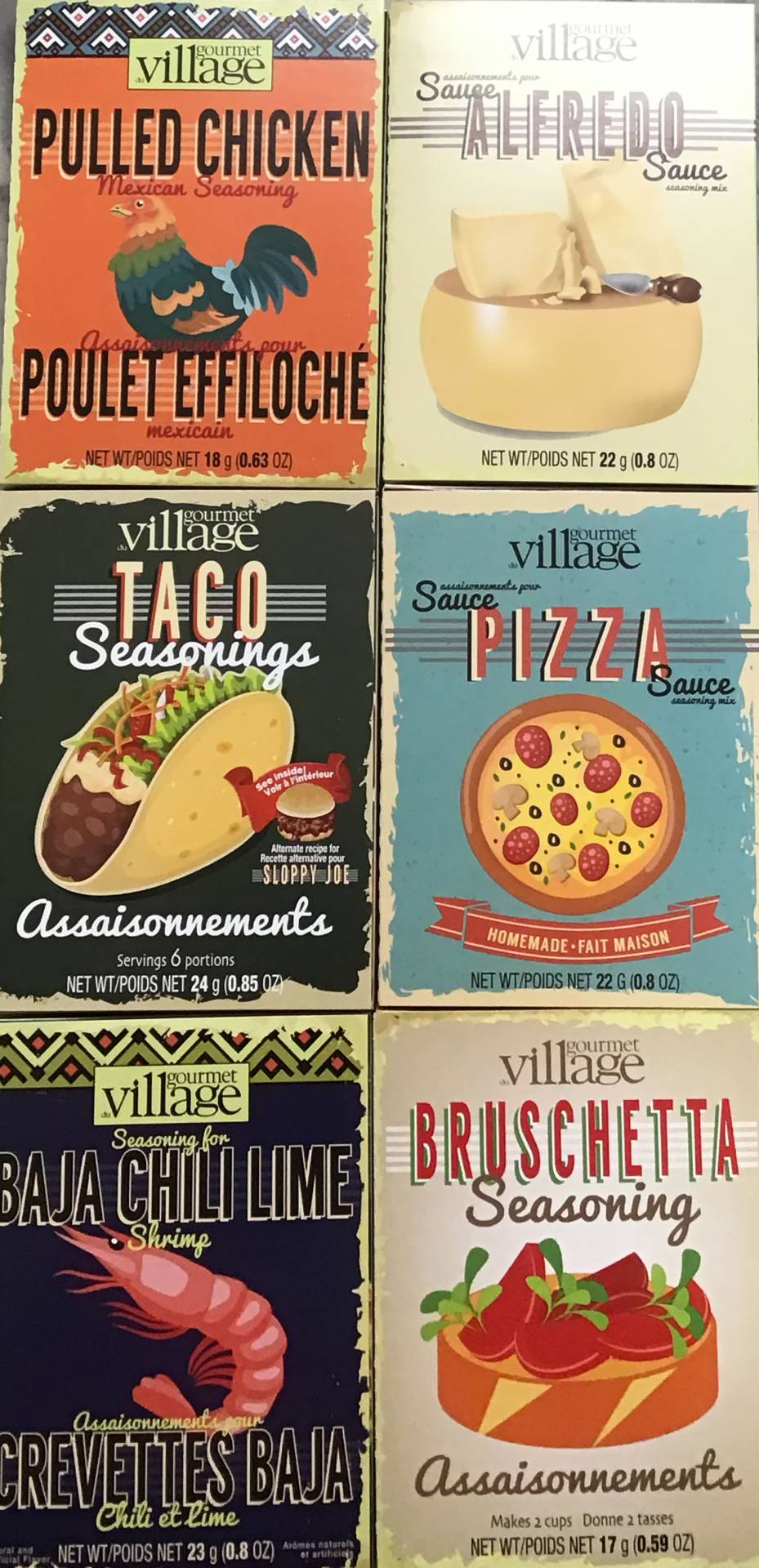 Mexican and Italian Seasonings
To add to their growing collection of seasonings and dip mixes Gourmet du Village have introduced a range of Mexican and Italian inspired seasonings.
With so many great ingredients and exciting tastes to discover in the Latin Larder Gourmet du Village's blends of natural herbs and spices make serving casual Mexican cuisine easy. New for this year they have added Baja Chili Lime Shrimp, Pulled Chicken and, Mexican rice to go along with their best selling classic fajita, guacamole and taco seasonings.
For Italian options Gourmet du Village have made it easy to create homemade bruschetta, pasta sauce and, pizza sauce using their unique blends of herbs and spices combined with the the freshest ingredients from the garden or market.
Mexican Seasonings
Mexican Rice – $ 4.95 Each
Chili Seasoning Jar – $8.95 Each
Recipe Cards – $3.95 Each
Pulled Chicken Seasoning
Baja Shrimp Chili Lime Seasoning
Taco Seasoning
Fajita Seasoning
Guacamole Dip Mix
Italian Seasonings – $3.95 Each
Bruschetta Seasoning
Pizza Sauce Seasoning
Alfredo Sauce Seasoning
Italian Salad Dressing mix
Salad and Corn Seasonings
To go along with all of Gourmet du Village's offerings for grilling and dips they have come up with a selection of herbs and spices to help make your own tasty salad dressing. Add these seasonings to oil and vinegar and follow their easy recipes to get a fresh and delicious dressing to add to garden fresh vegetables. Salad Dressing seasonings are available in three flavours, Caesar, Zesty Italian and, Tangy Greek and priced at $3.95 each.
New this summer at Gourmet du Village are their line of corn seasonings which can be used on fresh popcorn tossed with melted butter, sprinkled on freshly boiled corn on the cob or on corn that has been roasted on the barbecue or in the oven. Corn seasonings are available in Chili Lime, Jalapeño Ranch and, Fire Roasted Chipotle and are priced at $3.95 each.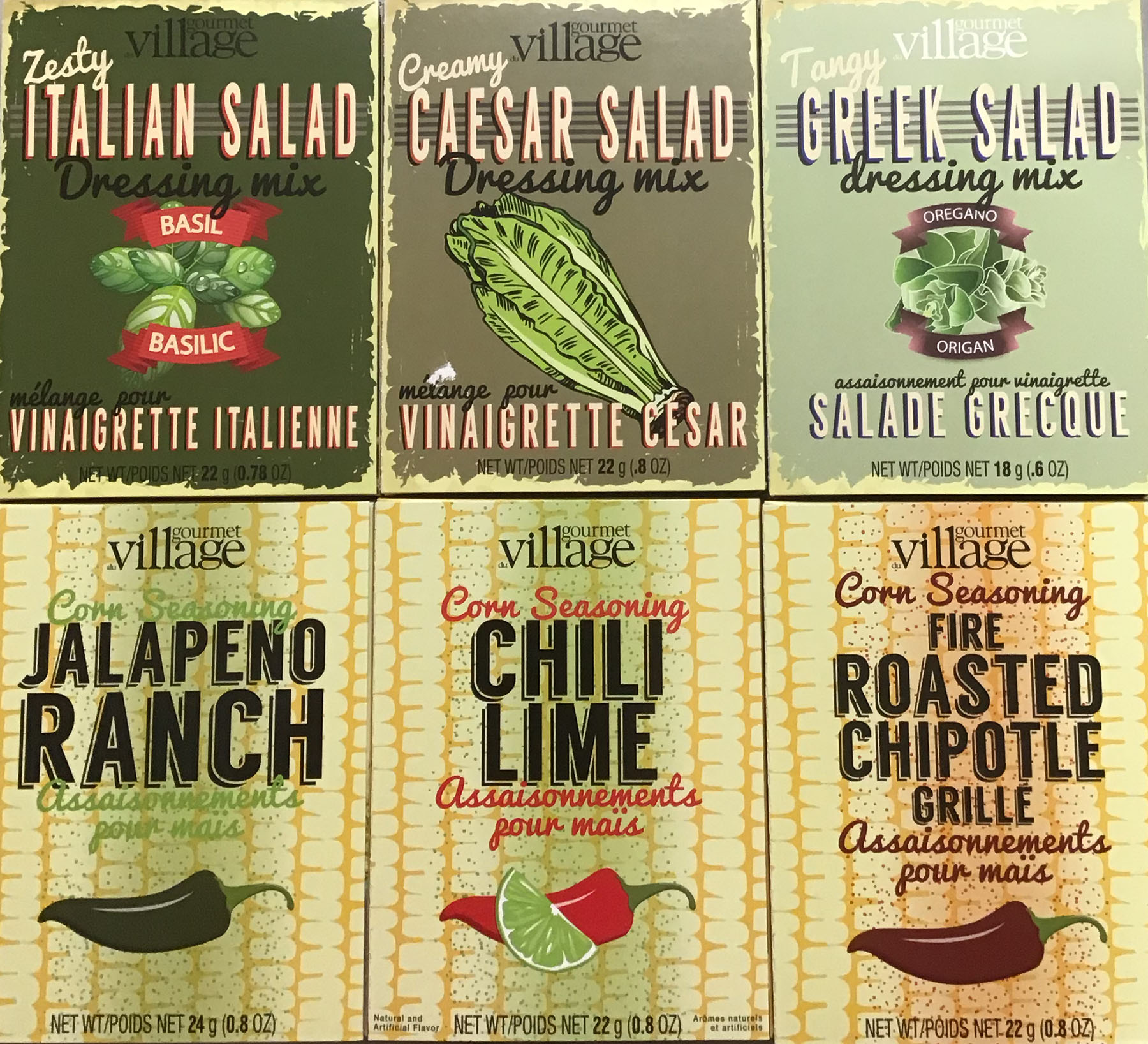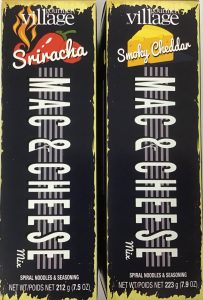 Macaroni and Cheese
Available in Smoky Cheddar (currently available only in cast iron skillet set – $29.95) and Sriracha these Mac & Cheese kits will be a hit with young and old alike. Each package serves 4 to 6 people but you might be tempted to polish it off with a friend. Each Package is priced at $6.95.