Valentine's Chocolate Boxes
In addition to our regular pre-made boxes of chocolates there are a number of special items done just for Valentine's Day in various sizes and shapes. These boxes are filled with a selection of our most popular chocolates in both milk and dark chocolate.
Firstly, we have our Heart Shaped Boxes available in two sizes: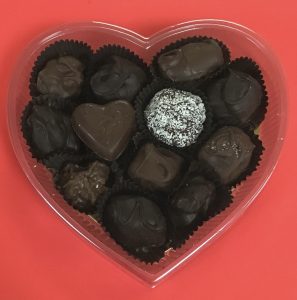 Small Heart Box
$22.95 Each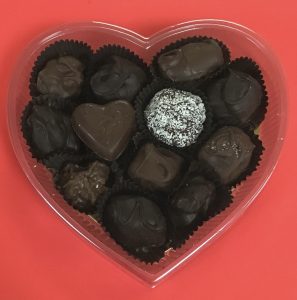 Large Heart Box
$44.95 Each
Also available we have square boxes with a Valentine's theme in two sizes:
200g Valentine's Square – $19.95
400g Valentine's Square – $37.95
If you are looking for something a little bit more fancy we have a glass dish filled with 15 assorted chocolates priced at $29.95.
Check out our Valentine's box options here.
Call us at (519)824-7562 or email us at info@candiesofmerritt.com to place your orders for Valentine's Day. We will be open Monday February 13th 9:30 am to 5:30 pm