Thanksgiving Weekend 2023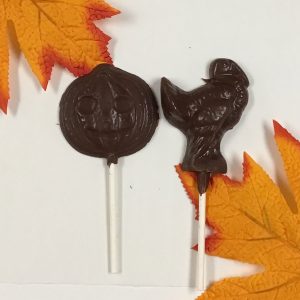 With the summer weather we have been having this week you would not think that Thanksgiving is this weekend!
At Candies of Merritt we can help you out with all sorts of treats perfect for celebrating fall and Thanksgiving.
In Chocolate we have our ever popular Milk Chocolate Turkey and Pumpkins on a Stick perfect for place settings at the dinner table, priced at $2.95 each. We also have some Milk Chocolate fall leaves available in the cabinet priced by weight. Searching for something a little larger? Milk chocolate Jack-o-lantern pumpkins decorated with candy are also available, priced at $6.50 each.
Also, with the start of October it means that Pumpkin Pie Fudge season is in full swing. Priced at $17.95 a pound and available in what ever size piece you would like, this fudge is always a popular Thanksgiving treat.
Don't forget we will be closed Sunday October 8th 2023 and Monday October 9th 2023.