Hopping into Easter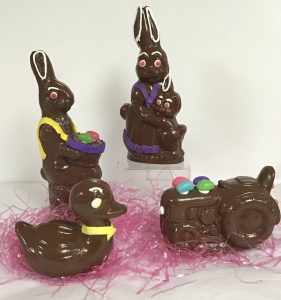 Time to get the Easter parade underway. In store we have a wide assortment of milk chocolate Easter novelties ranging from small flat medallions, bunnies and half eggs to large three dimensional decorated Easter eggs, bunnies and other friends.
Complete with hand-piped icing ears, eyes and eyebrows our traditional hand molded, hand decorated bunnies and friends may be further topped off with jelly beans, icing flowers, carrots, or other icing embellishments. Now organized on the shelves and ready to go it's wise to hop on in while the selection is plentiful.
We also have a selection of flat dark chocolate Easter novelties. Shop early for the best variety.