Mother's Day is Less Than Two Weeks Away!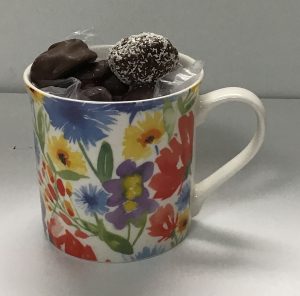 Mothers Day is fast approaching and even though we all still can't gather with our families like we wish we could we have many options to help you treat your Mom or Grandma or other special lady in your life.
Chocolate is a go to for gift giving occasions and Mother's Day is no exception. Whether you choose a few in a bag or a boxful, Mom will enjoy a delicious treat. Why not get even more creative by filling a glass bowl, crystal dish or a nice mug with chocolate? She'll have something to keep and use after the goodies are a pleasant memory.
Along with our ever popular chocolates we have fudges, gourmet foods and, a selection of different giftware items and collectibles sure to make great gifts.
Check out our Mother's Day Gift Ideas here.
Check out our selection of Mom figurines and Mugs here.
As there is no in store shopping allowed, we are offering curbside pickup, shipping by Canada Post or free delivery within Guelph. Call us at (519)824 7562 or email us at sales@candiesofmerritt.com to place your order.
Just a reminder we are closed on Mother's Day, Sunday May 9th 2021 so plan ahead.