Cinco de Mayo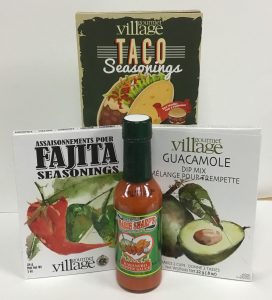 Happy Cinco de Mayo Day! It's a great day for all lovers of spicy food and drink.
In gourmet foods we have a few different options to add a bit of Mexican flair to your meals. With so many great ingredients and exciting tastes to discover in the Latin Larder Gourmet du Village's blends of natural herbs and spices make serving casual Mexican cuisine easy. They have recently added Baja Chili Lime Shrimp and, Pulled Chicken to go along with their best selling classic fajita, guacamole and taco seasonings.
In their famous baked dip mixes Gourmet du Village have a Spicy Mexican and a Cheesy Nacho mix which have been very popular. To add a little spice to your corn or popcorn Gourmet Village have also brought out a range of corn seasonings. Available in three types, Chile Lime, Jalapeño Ranch and, Fire Roasted Chipotle they will enhance the flavour however you prepare your corn.
Marie Sharp's Hot Sauces and Jams
From Belize, Mexico's neighbour, we have the Marie Sharp's line of hot sauces, including the new Scorpion hot sauce. Not only are they a flavourful hot sauce they mix up into excellent dips for vegetables and chips as well as being used as marinades or dipping sauces. Another use is to add them to the water used for cooking rice and pasta or add kick to soups and chilis. With over thirteen flavours ranging in heat level there is sure to be something for everyone.
If you are not a fan of hot sauce we have her Red Pepper Jelly, Belizean Season All and Green Mango Chutney. If you fancy something a little more sweet we carry Marie Sharp's line of jams that include flavours like Banana, Pineapple, Tropical Mixed Fruit, Coconut, Guava and, Mango.
With so many different flavours to try and varying levels of heat try something new this Cinco de Mayo!