Halloween Treats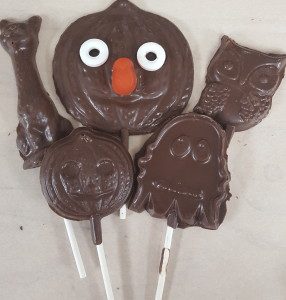 It's hard to believe Halloween is almost here. If you are looking for treats for special trick or treaters we have you covered. From chocolate, gummies and hot chocolates to halloween inspired figurines we have a large selection of products that encompass the Halloween spirit.
In milk chocolate we have ghosts, pumpkins and cards on a stick priced at $2.75 each. If you are looking for something a little bigger in chocolate we have our jack-o-lantern faces that are decorated with candy priced at $5.50 each.
If you are not a chocolate fan we have a large selection of Albanese gummies. Along with the usual range we have gummy pumpkins, gummy worms and, spooktacular mix in pound bags priced at $3.79 each.
Halloween night has a tendency to be a little bit chilly, especially if you are out trick or treating. Hot chocolates from gourmet du village make the perfect treat to help you warm up once you get home. For even more fun they have a range of colour changing hot chocolates that are sure to delight.
If you want to check out everything we are offering for halloween check out our halloween page here.
Also don't forget your pumpkin pie fudge! The season will be over before you know it.