Thanksgiving Treats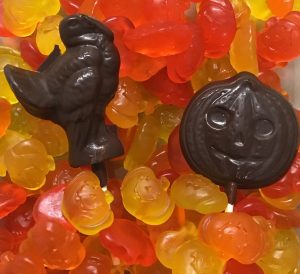 Thanksgiving is less than two weeks away and we have plenty of treat ideas to help you celebrate the holiday. From gummies to chocolate and fudge there are many things to choose from.
For those looking to add a festive treat to a Thanksgiving table, we have a range of seasonal milk chocolate novelties ready to go. Turkeys on a stick or pumpkins on a stick are always a popular choice for young and not quite as young alike. Searching for something a little larger? Milk chocolate Jack-o-lantern pumpkins decorated with candy are now available. Or for something different try milk chocolate shaped leaves, in three styles, priced by weight. If you are looking g for something a little bit fancier we have two sizes of glass leaf dishes filled with a selection of some of out most popular chocolates.
If chocolate is not your thing we also have gummy pumpkins and peach rings from Albanese as well as two different types of maple popcorn from Quebec that we quite enjoy.
Also don't forget our Pumpkin Pie Fudge, one of our most popular fudges only available until the end of October.