Pumpkin Pie Fudge Season Is Here!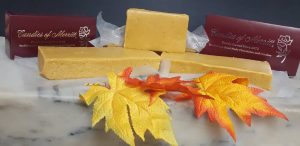 Leaves are changing, temperatures are (mostly) a bit cooler, fall fruits and vegetables are appearing in stores. As September has been progressing more and more eager fans of Pumpkin Pie Fudge have been making inquiries as to when it would be available. Wait no longer – the first batches of this annual treat are made. So today, Friday September 21st, is the first day of the season.
Are you far away and can't get into the store? No problem, we will ship some out to you. In need of a larger quantity? Place your order – we will make it and set it aside for you. Make sure not to miss out on this once a year taste sensation. While you're at it, why not try one of our year round fudge flavours as well?