It's October, Thanksgiving Is Coming…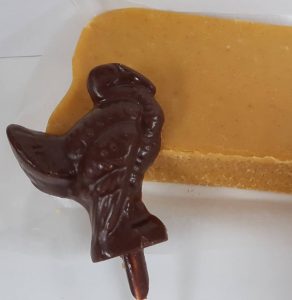 2018 seems to be flying by. Already we've arrived at October 1st, and this coming weekend is Thanksgiving! Are you ready?
For those looking to add a festive treat to a Thanksgiving table, we have a range of seasonal milk chocolate novelties ready to go. Turkeys on a stick or pumpkins on a stick are always a popular choice for young and not quite as young alike. Searching for something a little larger? Milk chocolate Jack-o-lantern pumpkins decorated with candy are now available. Or for something different try milk chocolate shaped leaves, in three styles, priced by weight.
Why not give each place setting a more personal touch? Milk chocolate letters – available year round – can be used to identify everyone's seat at the table. For a fancier option choose our small gold bow boxes. Each box contains two chocolates, and makes a lovely table favour.
Definitely do not forget your pumpkin pie fudge this week. A perennial fall favourite, it is only available until October 31st.