Pumpkin Pie Fudge Season 2019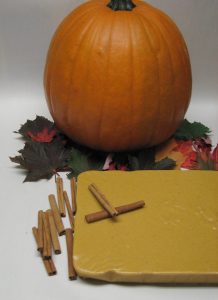 Fall is making itself known with cooler evening temperatures, colourful leaves and back to routine types of activities. So it must be time for Pumpkin Pie Fudge!
This annual treat combines our plain fudge with spices and pumpkin into a smooth, festive, fall time flavour. Customers start inquiring by mid summer for this once a year specialty item. Pumpkin Pie Fudge makes an excellent pick me up treat at work, a nice surprise to take home or a tasty treat to share with friends.
It is especially popular leading up to Thanksgiving. Want to ensure you get some? We're happy to take an order. We also ship it anywhere in the world. Just make sure you don't miss out. Only available until the end of October.