2018 Strawberry Season Has Begun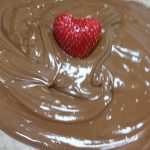 After a crazy winter which felt like it would never end, it's finally strawberry season at our local farm – which means chocolate covered strawberries have begun. These delicious milk chocolate treats are hand dipped fresh each morning – sometimes several times throughout the day! The first batch has already gone but the second batch is getting underway.
If you are able to plan ahead and let us know, we hold your order aside for you. Dark chocolate strawberries available with enough notice.