Chocolate Covered Strawberry Season 2019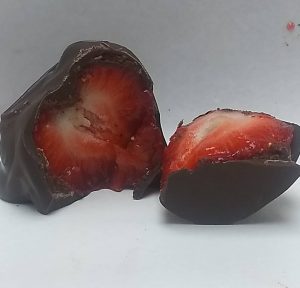 Throughout June people have been asking when our chocolate covered strawberry season would begin. But it has been a strange growing season fruits and vegetables, including our much anticipated strawberries. Poor little plants have been shivering in the ground. While they have been full of flowers, indicating a good yield is coming, tiny little berries about the size of a pea were all still waiting at the beginning of June for warmth and sunshine to help them develop.
But finally the first harvest of fresh local berries are ready. Today the 2019 chocolate covered strawberry season has begun. Milk chocolate berries are in the cabinet ready for sale. Pick up one to treat yourself, or a whole boxful to share at home or work. Remember, they're best eaten the day we dip them.
With the delayed start to the season it will be interesting to see how long we will have chocolate covered strawberries available.  Be sure to come early in case we end up with a quick season! In need of a larger quantity? Please get in touch so we can make sure an order is ready for you exactly when needed.