Red Velvet Hot Chocolate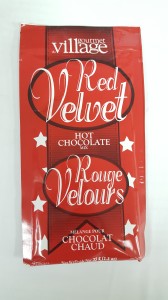 It's a good day to take the chill off with a warm drink. Coffee, tea, hot chocolate and hot cider are available in lots of flavours to help.
One of last season's most popular hot chocolate introductions from Gourmet du Village was Red Velvet. Supplies of it ran out early. Happily it is now back in stock for us for customers to enjoy. Why not try one of this season's new flavours as well? Cookies and Cream, Hazelnut, Mochaccino, Double Dark hot chocolates or Cranberry Cider already have devoted followers. Enjoy!