Pumpkin Pie Fudge Season!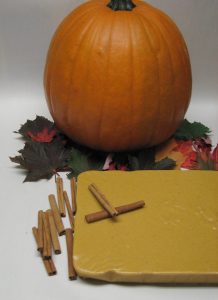 Who would like to see an early start to our Pumpkin Pie Fudge season? This year, in honour of our 50th anniversary we are starting much sooner than normal. Today is the first day this fan favourite is available in store. Labelled as our 'October' fudge when we first started making it over 35 years ago, as all things pumpkin have caught on in many different forms we get requests earlier and earlier for it every year. Since we'll be doing a few special things this fall, celebrating 50 years of Candies of Merritt in Guelph, an early Pumpkin Pie Fudge season seemed like a great place to begin.
Lots of pumpkin and spices get combined with our regular fudge ingredients, making a taste of fall like no other. This festive flavour definitely sets the tone for the upcoming autumn season, along with the rapidly approaching Thanksgiving and Halloween. Where is the year going?
Get some to treat yourself as cooler evenings arrive or share some with family, friends or work colleagues. Thinking about a larger quantity? Order ahead by phone or email to make sure we have enough made. We're happy to ship it out as well.
Feel like a variety of fudge options to go along with Pumpkin Pie fudge? Choose from our selection of year round fudges as well. There lots of fun ways to mix up a tasty package of fudgy goodness.