New Traditional Fruit Jelly Flavour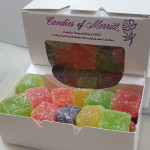 Ready for something different? Try our newest flavour in traditional fruit jellies – blood orange. Each fragrant square of soft candy bursts with flavour as you bite in. It makes a great addition to a mixed box of jellies.
Available flavours are blood orange, cherry, grape, lemon-lime, pineapple and tangerine.