Hockey Playoff Fudge Is Here For 2021!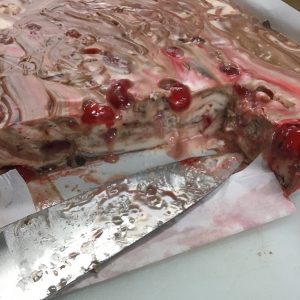 Once again NHL Hockey Playoffs are looking very different this year. Nonetheless playoff time has crept up upon us. Starting tonight with the 2021 East Division two teams will begin their round one in the quest for Stanley Cup glory while other divisions finish up the regular season.
What does this mean at Candies of Merritt? Time for Hockey Playoff Fudge, of course!
Starting with our vanilla fudge, chunks of dark chocolate and loads of cherries are mixed in, swirling together into a tasty, gooey, colourful – some might even say loud – treat. It's a fan favourite customers look forward to all year. Batch one of this once a year fudge is ready in store. Phone or email your order in for curbside pick up, delivery within Guelph or shipping by Canada Post.
Be sure to get yours before it disappears as the season winds down.