Halloween is less than a week away!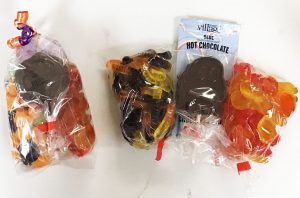 Halloween is this weekend, Sunday October 31st.  It's not too late to pick up some treats.
Our Halloween treat bags make a great choice for special trick or treaters. Each one contains Albanese gummy candies, a colour change hot chocolate and a milk chocolate on a stick, so you get a little bit of everything. They are priced at $8.95 each.
If you are looking for some smaller options we have milk chocolate ghosts, cats and pumpkins on a stick as well as Halloween candy skewers for something a little bit different.
These are just a couple of the many different options we have available. Check out more on our halloween page here.
We are open 10 to 5 until Saturday October 30th and closed on Sunday October 31st, so please plan ahead.