Christmas Time Mouse Wedding At Christmas Kickoff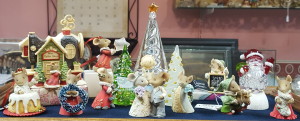 Join us on Saturday November 4th for our Christmas Kickoff to see the fun things we've been getting in. A festive Christmas wedding from the Heart of Christmas mouse friends is among the whimsical displays awaiting your visit. With so much to see and hot chocolate or apple cider ready to sip as you wander, tomorrow's event will be a great time.
Today is Random Act of Kindness Day. What will you do to brighten someone's day?