Assorted Gummies for when you can't decide.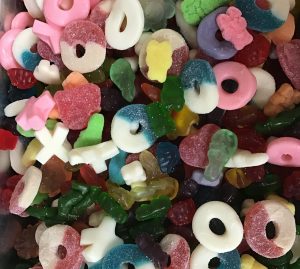 Gummies are always a popular choice as a yummy snack but sometimes it can be hard to decide between all the flavours. From the ever popular gummy bear to Gummy jet fighters and Peach Rings there are now so many choices when it comes to deciding it can be a tough choice of which kind to get. Our assorted mix of Albanese gummies feature a selection of some of the most popular flavours that we have so you don't have to choose. No two bags will be the same. Along with our assorted gummies we have a wide range of candies to choose from if you do have a specific favourite.
Try our assorted gummies today and you never know you might end up finding a new favourite.
We are open for curbside pick up and delivery within Guelph Tuesday to Saturday 10 – 5.