Wrendale Mugs for Spring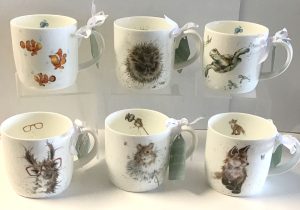 Spring has sprung, although today it does not really feel like spring. The flowers have started blooming and the trees have started to grow leaves.
One thing that always makes us think of spring are the mugs from Wrendale designs. Each of these mugs feature wildlife based on original artwork by award winning artist Hannah Dale. Each mug is made from fine bone china and are also microwave and dishwasher safe and hold 11 oz. They are priced at $14.95 each. These mugs alone make perfect gifts for family and friends or pair them with tea, hot chocolate or chocolates and candy.
With a wide selection of different animals, from hedgehogs to clown fish, there is sure to be one to suit every animal lover in your life.