Wintergreen Candy Canes Now In Stock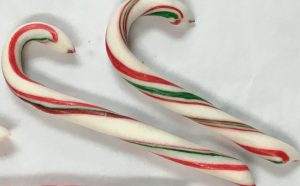 Cooler weather is approaching, meaning it is time for Wintergreen Candy Canes! The first batch of the season is now made and in the cabinet.
Starting from the simplest of ingredients, sugar and water, a boiling hot mass of clear candy is made. Flavour is added before separating out a few small pieces for colouring. Air is incorporated in as it is pulled on our old fashioned candy hook. Our classic red and green stripes are added to the now white candy, then each and every cane is stretched, rolled and crooked by hand to make this annual treat.
Our wintergreen candy canes in particular make their way all over Canada and beyond. Ordering in advance is always a good idea as we frequently run out during the busy Christmas season. Please place your order by the end of November so we can guarantee you won't miss out.