Valentine's Day Chocolate Novelties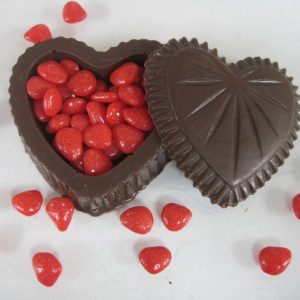 Here at Candies of Merritt we have many chocolate novelties to celebrate this special day.
There are many different shapes, styles and, sizes of solid milk chocolate hearts including hearts on a stick as well as roses on a stick.  Also available are little milk chocolate heart boxes filled with cinnamon hearts for something a little bit different.
Looking for a milk chocolate greeting card? We have Love or To my Valentine greeting cards decorated with icing hearts. Looking  for something quirky? Milk chocolate lips will fill the bill.
Also in Pure Dark Chocolate we have available Hearts on a stick along with a large flat chocolate heart which are suitable for Vegans and for those that are unable to have dairy.
In No Sugar Added Milk Chocolate. specifically for those that are diabetic we have hearts on a stick and chocolate lips available.
Valentine's Day is this Friday so come in and check out all of our Valentine's treats!