Hockey Playoffs Begin Tonight…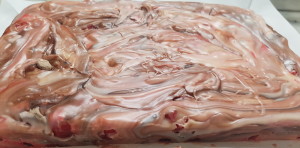 With 16 teams ready to begin the quest for the Stanley Cup, here at Candies of Merritt it means it's time for Hockey Playoff Fudge. Vanilla fudge is stuffed with chunks of dark chocolate and whole maraschino cherries. The colourful swirls make a great addition to a mixed box of fudge, or are fun all on their own.
Playoff fudge will be available in store until the Stanley Cup is awarded. Why not stop in and pick some up for the first game tonight?