Easter Is Coming!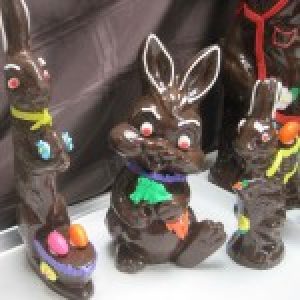 Bunnies are hopping onto shelves at a rapid pace. And they are bringing friends along with them. Dogs, cats, elephants, chickens, cowboy hats… lots of different options are available.  All sorts of milk chocolate choices are ready, accented with icing, jelly beans or other fun bits.
Looking to be certain you get what you are after?  Pre-ordering is a great idea.  In fact, our largest novelties – beautiful Betty Bunny and the extra, extra large Easter egg – are only available by pre-order.
Be sure to shop early for best selection.