Summer Marie Sharp's Jams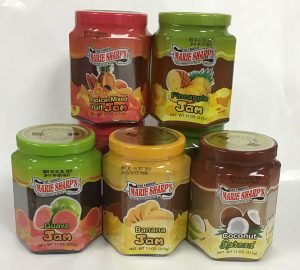 Looking to try something new this summer? We have just the thing.
Marie Sharp's has a line of all natural jams, in a variety of very summery flavours. Each jam is made from fruit puree, natural cane sugar, citric acid and, pectin. There are no preservatives or added flavours and colours. On top of this she also does not use fruit juices or concentrates. She only uses the freshest exotic fruits and finest ingredients to make her line of jams, many of which are grown on the family farm in the foothills of the mayan mountains.
Use these Jams to make a unique take on Jam Tarts, cake fillings, on scones, or just to change up your morning jam on toast. Take a different approach to classic peanut butter and jelly sandwiches by using the banana jam in place of traditional jellies.
We have five flavours available: Banana, Coconut, Guava, Mango, Pineapple and, Tropical Mixed Fruit in 11 oz. jars priced at $9.95 each.