The addition of SNOB confetti almonds imported from the Confetti Crispo company Italy has been greeted with so much enthusiasm by customers we have spent some time investigating other possible food offerings to bring in as well. We are thrilled to share about a series of Italian gourmet foods. Available in store, we have personally sampled and enjoyed each one greatly.
Jams and Spreads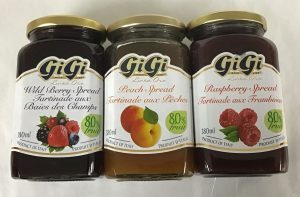 Jams abound on the market. What is so special about these jams? Gigi brand jams are made with 80% fruit. They are delicious in a sandwich, on toast, mixed in yoghurt, as a crepe or pancake topping, with ice cream… use your imagination. Each flavour is gluten free.
Peach Jam – $7.99/380 mL glass jar

Wild Berry Jam – $7.99/380 mL glass jar
Strawberry Jam – $7.99/380 mL glass jar
Raspberry Jam – $7.99/380 mL glass jar
Also available is bomba – a spicy spread favoured in Italy. This is also gluten free and priced at $6.99/314 mL glass jar.
Pasta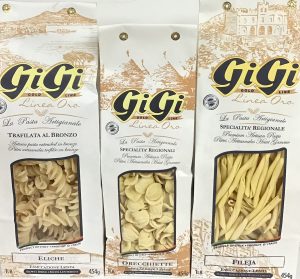 Most pastas available in grocery stores are made using teflon dies and heat dried for speed of production. Our Gigi brand pastas are made using slower traditional methods – something we appreciate as old fashioned candy makers who still work to produce handmade chocolates in small batches on marble tables.
Each pasta is slowly extruded through bronze dies then air dried. The distinctive 'hook' – a signature of straight pastas being air dried – is quite noticeable in the linguini and spaghetti varieties. These slow processing methods allows both nutrients and flavour to be retained. It also allows from some intriguing pasta shapes.
Eliche

Fileja
Orecchiette
Each bag of pasta is priced at $3.99 for a pound bag.
Pasta Sauces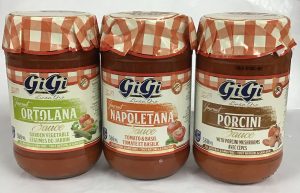 In today's climate of increased awareness about healthy, natural foods we are pleased to offer some gluten free, GMO free (genetically modified organism) gourmet pasta sauces.
Napoletana Sauce (Tomato and Basil)  – $7.99 /580 mL jar
Ortolana Sauce (Garden Vegetable) – $7.99 /580 mL jar
Porcini Sauce  (Porcini Mushroom) – $7.99/580 mL jar
Need a quick meal? Use one of the pastas coupled with your choice of pasta sauce. Delicious!