Thanksgiving Treats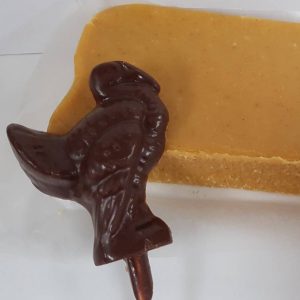 Thanksgiving weekend is this weekend and even though this year's Thanksgiving looks and feels different we have some of our traditional fall treats available.
We have our popular Turkeys and Pumpkins on a stick available in Milk Chocolate and priced at $2.50 each. If you are looking for something a little larger our decorated jack-o-lantern faces are ready to go. Chocolate isn't your thing? We also have Gummy Pumpkins and Peach Rings along with a whole range of other gummy candies available.
Pumpkin Pie Fudge is also Thanksgiving tradition here at Candies of Merritt. Many people's Thanksgivings are not complete without it. Whether you are looking for a piece as part of a mix of fudge or a larger quantity by itself all fudge is priced at $16.95 a pound.
Make sure you have your Thanksgiving Treats by Saturday at 5pm as we are closed both Sunday and Monday.
Call or Email us to place your order for either pick up or for free delivery within Guelph.