Barbecue Gift Assortments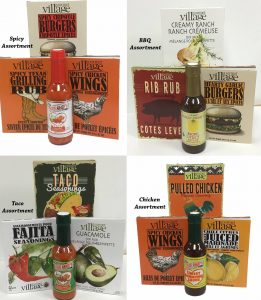 As the warm weather has arrived and with Father's Day fast approaching, we have put together a selection of gourmet food product to help add some more variety to your summer meals.  Each set has been put together to suit different tastes.
Spicy Assortment, for those who enjoy the added heat
BBQ Assortment, seasonings for some of the most popular BBQ recipes
Taco Assortment, some of the most popular flavours of Latin America cuisine
Chicken Assortment, a selection of seasonings that work well with chicken
Each assortment comes with a selection of three Gourmet du Village recipe cards and a bottle of Marie sharp's hot sauce. Each recipe card comes with recipes and suggestions of how to use them so the possibilities are endless.
Priced at $19.95 these assortments are sure to make a great gift for any food enthusiast!