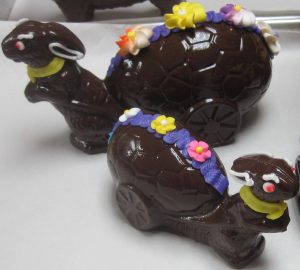 We had great fun with our poll on Facebook getting feedback from people on which they would choose – bunny or egg. Both camps had strong supporters, but eggs won the day overall.
However some people couldn't decide, appreciating both. For those folks we have the solution – small or large egg bunny! This industrious rabbit tows its egg along behind, giving customers the best of both worlds.
Whether bunny or egg, Easter novelties are moving fast. Hop on in early for best selection!